Presidential Awards for Excellence in Science, Mathematics, and Engineering Mentoring
From: A Report to the Congress: Science and Technology Shaping the Twenty-First Century, 1996
From Executive Office of the President, Office of Science and Technology Policy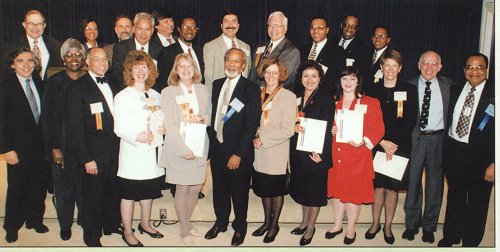 The first recipients of the Presidential Awards for Excellence in Science, Mathematics, and Engineering Mentoring. At the White House in September 1996, the honorees included ten individuals and six institutions that have been exemplary in their encouragement of minorities, women, and people with disabilities to pursue careers in scientific and technical fields. President Clinton noted that they would "serve as examples to their colleagues and will be leaders in the national effort to train the next century's scientists, mathematicians, and engineers."

1996 PRESIDENTIAL AWARDS FOR EXCELLENCE IN SCIENCE, MATHEMATICS, AND ENGINEERING MENTORING




INDIVIDUALS
Martha G. Absher, Duke University, Durham, NC
Howard G. Adams, National Institute on Mentoring, Georgia Institute of Technology, Atlanta, GA
Diola Bagayoko, Southern University, Baton Rouge, LA
Joaquin Bustoz, Arizona State University, Tempe, AZ
Carlos G. Gutierrez, California State University-Los Angeles, Los Angeles, CA
Janet S. Herman, University of Virginia, Charlottesville, VA
Susan J. S. Lasser, Clemson University, Clemson, SC
Melvin B. Robin, Science High School, Newark, NJ
Walter S. Smith, University of Akron, Akron, OH
Richard A. Tapia, Rice University, Houston, TX

INSTITUTIONS
Columbia University Double Discovery Center, New York, NY
Dartmouth College Women in Science Project, Hanover, NH
National Action Council for Minorities in Engineering, Inc. (NACME), New York, NY
New Mexico MESA, Inc., Albuquerque, NM
Oregon Graduate Institute of Science & Technology Saturday Academy Program, Portland, OR
University of Maryland Baltimore County, Baltimore, MD
TELL THEM, "YES, IT'S POSSIBLE."
As a poor, Mexican American child, Richard Tapia knew he excelled in math and science, but how his technical abilities could lead him out of inner city Los Angeles seemed uncertain. "I just needed someone to tell me, 'Yes, it's possible."'
Tapia, now director of Rice University's Department of Computational and Applied Mathematics, recalls several teachers who went the extra mile and encouraged him to "take your talent and love of math, and make a career out of it." While building impressive academic and professional achievements, including nomination by President Clinton to the National Science Board that governs the National Science Foundation (NSF), Tapia has never forgotten that one positive statement can change someone's life forever.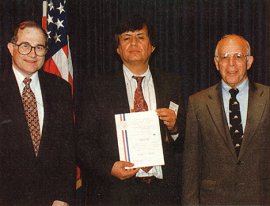 Honored for his mentoring efforts, Richard Tapia of Rice University is flanked by Neal Lane, National Science Foundation Director (L) and John Gibbons, Assistant to the President for Science and Technology.

In addition to teaching and research, Tapia began and now directs all outreach programs of the NSF-funded Center for Research on Parallel Computation at Rice. In less than ten years, these programs have trained and encouraged more than 750 students and 700 teachers, especially under-represented minorities and women, to pursue careers in mathematics and science. He is as comfortable speaking to a class of second-graders as to a graduate school seminar. All the while, he is urging his network of teachers, students, and community leaders to interact with each other to make the world a better place.

Today, the importance of role modeling and mentoring is recognized at the highest levels. In 1996, Tapia, along with nine other individuals and six institutions, received a Presidential Award for Excellence in Science, Mathematics, and Engineering Mentoring. The awards are bestowed by the White House Office of Science and Technology Policy through the National Science and Technology Council. They recognize outstanding mentoring efforts and programs that enhance the participation of individuals from groups under-represented in these fields, namely minorities, women, and persons with disabilities.

Tapia's example is remarkable, but it is not unique. He and his co-recipients share President Clinton's belief that the nation's future prosperity depends on producing the finest scientists and engineers for the twenty-first century, and that we cannot afford to ignore the talents of people who may be outside the economic and social mainstream.

Another award winner, Martha Shumate Absher, firmly believes that outreach is done one individual at a time. Absher is director of outreach for the NSF Engineering Research Center for Emerging Cardiovascular Technologies at Duke University. She recalls a deaf undergraduate student she met when she visited Washington, D.C. to interview Gallaudet University candidates for her summer program. He was a "superb computer scientist," she recalls, but he was discouraged and worried about how to support his wife and the child they were expecting. He needed a job and was considering dropping out of school. She arranged a paid research internship for him in industry for one semester and, after the baby was born, brought the young father to Duke for the summer program. "He did a wonderful job," and was inspired to apply to the University of Maryland Computer Science Department, where he is now enrolled. Without her program's support, "who knows if he could have continued?" Absher muses. "He might have been lost to the whole educational system."

Absher's program provides laboratory research experience, and develops mentoring relationships with students from six universities, including Gallaudet and five Historically Black Colleges and Universities. Students from her program often become mentors to other students. She concentrates on follow-up because students who face challenges, such as disabilities, are often unable to turn one positive experience into continued career development.

Absher and Tapia believe that government support has literally changed the lives of students who otherwise would be unable to make the move from high school to undergraduate school to graduate school. Both express surprise that their award has made a difference to them but say that the personal recognition, and the visibility brought to their programs, helps them toward their goal of developing a pool of highly trained scientists and engineers that reflects our diverse population. Especially for those students who must overcome long odds to pursue a technical career, mentors such as Tapia and Absher can be all-important figures because they believe it when they say, "Yes, it's possible."