The math and science of encouragement
From: Houston Sun, July 20, 1998
By Lori Daugherty
Rice University and the University of Houston-Downtown presented the "Steering Minority Education for the 21st Century" conference on June 25, to encourage minority students, faculty members and researchers to participate in Science and Math.
The conference was implemented by the South Central Computational Science in Minority Institutions Consortium (SC-COSMIC), which promotes state-of-the-art science and math education, enables distance learning, shares research and provides access to online resources.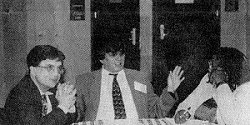 (left to right) UH-D Professor Alo and Rice Professor Richard Tapia enthusiastically discuss the minority conference with the Houston Sun intern Lori Daugherty.

"This conference is an example of how we can work together and add to each others strengths," said Richard Alo, UH-D professor and executive director for grants and contracts.

Alo is also responsible for obtaining conference funds from the National Science Foundation and the Army Research Lab.

According to Alo, the key point of the conference is to work together to further the education of the students.

The conference was three days of seminars and workshops that allowed the attendees to share ideas and voice their opinions of what goes on in the work place and in different colleges and universities.

"The conference was very interesting because touchy issues, such as obtaining a Ph.D. from a minority institution, were discussed," said Don Williams, Rice Graduate Student.

The conference expressed the idea that minority and majority institutions can nurture African American, Hispanic and Asian students for their futures in significant ways.

"We build a support system for the students involved," said Richard Tapia, associate director of the Rice University Minority Affairs department.

Tapia has also developed a mentor program called, "Spend a Summer with a scientist" (SaS). This year-round program assist students in their transition from a minority institution into a majority institution.