Helping Girls Move into Technology Careers
Leaders Say Progress is Evident, But Societal Changes are Needed
Top: Students Paolo Argaez, Becky Tapia and Angelina Meza confer with GirlTECH's Cynthia Lanius after watching grad students discuss research topics.

From: Hispanic Engineer and Information Technology, September/October 1997

By Jo Ann Zuniga

When Peggy Layne was a young girl, she never had a mentor encouraging her to pursue her interest in nature studies and pollution prevention. But now as an environmental engineer with ABB Environmental Services in Tallahassee, Fla., as well as national president of the Society of Women Engineers, Layne is making sure young girls have that opportunity.

"I'm very much used to the glass ceiling. But it's very frustrating to younger generations." - Rice University professor Yildiz Bayazitoglu

"We (the Society of Women Engineers) have active career guidance through the Girl Scouts and other organizations. Some chapters have even helped in making this badge in Scouts," she says. These programs include activities as simple as designing and constructing a bridge from Popsicle sticks to more extensive day-long and week-long summer programs aimed at minority middle school students funded by grants.

"l wish I would have had access to these types of programs as I was growing up. But we depend on volunteer time and energy so we can always use more outreach," Layne says. About half of the Society's 15,000 members nationally are college students, she adds.

Professor Yildiz Bayazitoglu of Rice University in Houston, this year's recipient of the Distinguished Engineering Education Award from the Society of Women Engineers, says major societal changes to encourage girls' interest in technological fields have been slow to come. "Besides education, it also depends on families and the way the children are raised. If only baby dolls are given to girls and the technological games and toys are given to boys, it's very difficult to later change their minds," she says.

A mechanical engineer, Bayazitoglu says she was not helped as a young girl in her native Turkey to pursue such a field.

"I had not been encouraged at all. But I developed well through math and I enjoyed the challenge of competition," she says.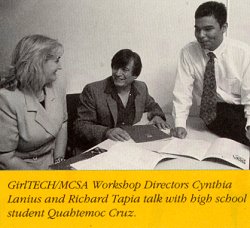 In turn, during her 20 years at Rice University, Bayazitoglu has mentored many of her students as they worked to complete their degrees and advance in their careers.
"I call them my very special students. I have several who have their doctorates and are now professors at universities, others who have gone on to engineering corporations and some who have switched to medicine or law," Bayazitoglu says.
Despite these programs, the numbers are not increasing, especially in upper management. Because of my age and the era I grew up in, I'm very much used to the glass ceiling. But it's very frustrating to the younger generations," she says.
She referred to the "glass ceiling" over women's careers identified by the U.S. Department of Labor's Glass Ceiling Commission, which found barriers from institutional and psychological practices exist that prevent qualified women and minorities from advancing within their organizations.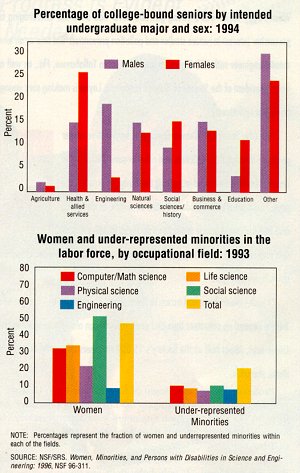 While advancements have been made during the 1980s and 1990s, Blacks and Hispanics of both sexes continue to be seriously under-represented in management, according to the commission report. Once they do become managers, however, minority men are only slightly underrepresented in the top 20 percent of salaried managers. Women made progress at this level also, but only 6 percent of white women and 3 percent of minority women had earnings in the top 20 percent of full-time salaried managers.
That inconsistency is as glaring in technology professions. According to the Bureau of Labor Statistics table, "Employed Civilians By Occupation, Sex, Race, and Hispanic Origin, 1983 and 1995," in 1983 women were 48.1 percent of 12.8 million workers in professional specialties, while in 1995 they had risen to 52.9 percent of 18.1 million professionals. Among minorities, the picture was less rosy: Those same 1983 figures show that only 2.5 percent of those professionals were Hispanics, and in 1995 the share had grown by slightly more than one percentage point.
Among 163,000 architects active in 1995, for example, women made up almost 20 percent, but Hispanics were less than 6 percent of the total. African Americans, at 2.5 percent, were even more scarce.
Some 5.8 percent of the nations engineers were women in 1983, a figure which increased to 8.4 percent by 1995. Hispanics of both sexes amounted to only 3.3 percent of the 1995 total, with Blacks making up another 4.7 percent.
Mathematical and computer scientists saw phenomenal growth in their numbers, springing from less than 483,000 in 1983 to nearly 1.2 million in 1995. Women made up 32 percent of the 1995 total, but that percentage may be dropping. Other studies suggest that computer science, a major rapidly growing in popularity as America becomes a networked nation, is actually falling in popularity with girls. And in any case, minority percentages are small: Only 2.8 percent of the mathematical and computer scientists were Hispanics in 1995. Blacks did a little better at 7.2 percent, but that is far below their percentage of the population.
Clearly, change is in order.
"What we need is a strong support system and more critical mass," says Dr. Richard Tapia, Rice University engineering professor who won the 1996 Presidential Award for Excellence in Science, Mathematics and Engineering Mentoring.
"If a woman is the only one among 75 males, there is going to be a tremendous amount of stress on her. The same situation holds true for minorities," Tapia says.
"Even professors and managers who think their gender equity is in good shape are surprised when students relate how statements made in their class or job make them feel inadequate, inferior or like they don't belong," Tapia says.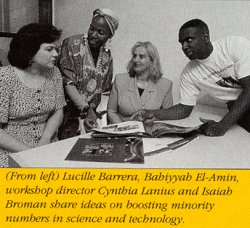 The father of a 13-year-old daughter, Tapia has seen his daughter's transition from an aggressive 7-year-old with an active affinity for the computer to a young teen more interested in lipstick, make-up and going to the shopping mall.
"The peer group dictating what girls are supposed to like and be like maintains the strongest pressure," he says. Women made up about 10 percent of computer science majors at U.S. universities during the 1990s as male-dominated video games such as "Street Fighter II" grew in popularity. That is down from about 40 percent in the 1980s, when children raised on neutral games such as "PAC-Man" reached college age.
"We are very concerned about the loss of women in computational science," Tapia says.
Two programs trying to reverse these losses are GirlTech and Girl Games, part of studies at the Center for Research on Parallel Computation (CRPC). Funded by the National Science Foundation and located on the Rice campus, the CRPC is a consortium of researchers at seven sites including Argonne National Laboratory in Illinois; Caltech in Pasadena, Calif.; Los Alamos National Laboratory in New Mexico; Syracuse University in New York; the University of Tennessee at Knoxville; and the University of Texas.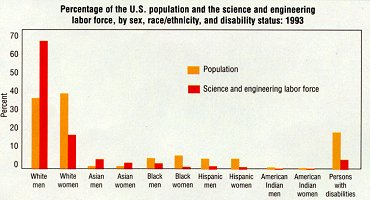 The GirlTech/ Mathematical and Computational Sciences Awareness Workshop has 20 Houston-area teachers of kindergarten through grade 12 math, science and computer science programs receiving intensive computer-technology training and exploring diversity issues in the computational sciences this summer.
These teachers in turn will train hundreds of other teachers whose work is expected to impact the education of up to 30,000 Texas students. They also reach teachers and students worldwide with Web-site-based math and science curricula that they created. It is available at http://teachertech.rice.edu/.
Master teacher Cynthia Lanius, who oversees the GirlTech program, says, "We've had teachers and students from across the nation and even from Israel and Singapore saying they really enjoyed working the curricula."
The other research conducted by the center involved the Austin-based Girl Games Inc. software company owned by Laura Groppe.
Studies showed that until the age of 6, girls use the computer as much as boys and often demonstrate superior concentration and motor skills. But around the age of 7, when gender differences accelerate, girls drop out of the market. While boys are playing competitive spatial games involving action figures, weapons, mayhem and crash vehicles, little girls' play patterns are geared toward storytelling, building careers, emulating heroines and developing communities.
There is little opportunity for them to act on these interests in most current computer games. According to Sex Roles Journal, 85 percent of young women say they would play more computer games if there were more titles and programs designed with them in mind.
But the temptation by game makers today is to compensate with "pink and frilly" games that are as stereotypically female as blood-and-guts games are male. But the largest‹Nintendo, Sega and Sony are continuing to produce male-oriented products, leaving other companies to pick up the slack.
Girl Games has a program called "Let's Talk About Me," marketed on CD-ROM by Simon and Schuster Interactive, a unit of Time Warner. The software provides everything from information on make-up tips and eating disorders to matching girls with one of 23 mentors, including the movie executive Sherrie Lansing and U.S. Sen. Dianne Feinstein.
Laura Torczon, CRPC executive director, says, "I agree it is going to take a societal change before girls stop eliminating the science and technological fields as a career."
"Part of the reason for this elimination may be that girls do not see as many role models in the technical fields. Also they need to be told how fascinating the field is and how it provides you with a good solid income," she says.
Until that happens, percentages may be very slow to change. How that plays out in the work force can be seen at the nation's largest exporter, the Boeing Co. Company statistics show that of the work force of 154,000 designing and building aircraft, only 25 percent are female. Surveying the company's massive hangars in Everett, Wash., Boeing spokesman Peter Conte says qualified women are breaking through the barriers to become engineers, avionics technicians and mechanics.
But one of the female mechanics says the age-old problem still exists of "having guys on the job come on to you or belittle you. You find the nice guys who are already settled with wives or girlfriends, you get along and you do your job."
Jo Ann Zuniga is a free-lance writer.
http://www.ccgmag.com