Workshops and Symposia
Important vehicles for knowledge transfer are workshops and symposia that highlight research achievements to a targeted audience from industry, academia and government, and that allow group discussion on topics with broad impact and long-term importance. Through these meetings, center researchers disseminate information to a large audience and build research collaborations. They also introduce new technologies and provide hands-on training in new methodologies.
Disseminating Information

Many of the STCs hold annual research symposiums that provide a starting point for industry to learn about center activities. Each year, more than 150 scientists, half from industry, attend the annual international symposium for the Center for Photoinduced Charge Transfer. The Center for Biological Timing holds an annual "Industrial Symposium" that covers industry concerns such as the implications of biological timing in the work place and chronopharmacology. In addition, symposiums and other meetings provide contacts for disseminating information through newsletters, technical reports, annual reports, brochures, direct mail pieces, and other formats. One STC maintains a public domain software system, and others allow access to technical reports online.

Building Collaborations

STC workshops have encouraged interdisciplinary dialogue by showing alternative solutions to research problems. The need for the basic research community to meet the demands of the private sector will be the focus of discussion for a workshop for scientists and representatives from university business schools and government agencies that will be sponsored by the Center for Astrophysical Research in Antarctica.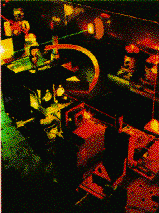 A wavelength-tunable, solid-state, femto-second laser, an instrument that is key to the development of probes for semiconductor crystal growth and processing - Center for Synthesis, Growth, and Analysis of Electronic Materials

Introducing New Technologies
The STCs have sponsored hundreds of workshops, introducing thousands of scientists and potential scientists to new methods and technologies. For example, the Center for Advanced Liquid Crystalline Optical Materials has organized five symposia on center projects, attracting more than 50 high-technology companies. Some meetings on new technologies cross physical boundaries, such as a symposium on gene expression by the Center for Biological Timing, which was received via satellite by more than 25 sites in the U.S. and Canada.
Providing Training
Businesses develop their own resources for new technologies by sending their researchers to STC training workshops or requesting specialized workshops, such as:

The Center for High Performance Polymeric Adhesives and Composites' series of training workshops for industrial researchers on polymeric materials, adhesives, and composites have provided more than 400 participants with hands-on laboratory experience in the latest methods in polymer synthesis and characterization.
The Center for Research in Cognitive Science has conducted workshop on machine learning, human language technology, and formal methods in software technology.
The Center for Synthesis, Growth, and Analysis of Electronic Materials operates a seminar program wherein center researchers give presentations to scientists at Motorola and Texas Instruments.
The Center for Discrete Mathematics and Theoretical Computer Science held a workshop on reliability of computer and communication networks, after which they were asked to organize a similar workshop for more than 200 industry scientists from the Bell System operating companies.
---
Knowledge Transfer Activities