Materials
Three research centers focus on improving methods and products in the area of materials development. Scientists from the Center for Advanced Cement-Based Materials work with industry on technologies to improve concrete durability and to develop novel nondestructive evaluation techniques for field use. Examples include working with ARCO Chemical Company on a commercial anti-shrinking agent for concrete and with Concrete Technology Corporation on high-performance concrete. Researchers are also working on the more effective use of concrete in nuclear energy and hazardous waste applications.

Researchers at the Center for High Performance Polymeric Adhesives and Composites have joint projects with several companies in a variety of material development programs. For instance, in collaboration with McDonnell-Douglas, center scientists will supply the "Affordable Polymeric Composites" program with expertise in fire-resistant materials, powder processing, computer-based performance simulation, and life prediction models. Studies are also underway with Boeing to develop accelerated test methods to project the performance of possible materials for parts over the planned 60,000-hour service life of high-speed civil aircraft.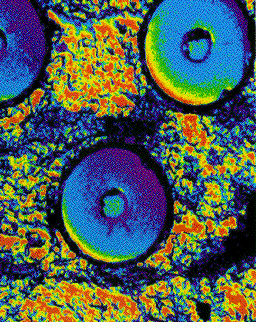 Silicon carbide coated carbon fibers in a polymer matrix - Center for High Performance Polymeric Adhesives and Composites

The Center for High Pressure Research works with several companies, analyzing and producing materials at high pressures. For instance, researchers from the Grumman Corporation are working with the center to construct a synchrotron infrared beam instrument for studying solid hydrogen and other materials at high pressures. The center also studies new ways that industry can use high-pressure technology to produce exotic materials, such as industrial-grade diamonds.
Optics and Imaging
Advances in imaging research occur through the STCs. The Center for Photoinduced Charge Transfer studies charge transfer, the process central to modern photography and xerography. In collaboration with scientists at the University of Rochester and Xerox, researchers have developed a new photoresponsive polymer with potential applications for electronic printers and copiers. Another collaboration with Xerox has yielded an affordable scanning tunneling microscope for classroom use. Furthermore, a project with Kodak on quantum size-restricted silver halide has influenced the direction of emulsion technology research.

The Center for Ultrafast Optical Science (CUOS) has developed and applied laser-produced ultrafast pulses for use in critical fields such as high-speed communications, electronics, and medicine. Recently, CUOS transferred technologies to more than eight companies interested in electro-optical and laser devices for scientific instruments. Five new products originating from the center have been commercialized and are being marketed by established optics companies. CUOS is also collaborating with the Center for Superconductivity and the NSF's Engineering Research Center for Compound Semiconductor Microelectronics on a project to evaluate high-frequency properties of high-temperature superconductors, which are needed for device design. CUOS has also contributed to the electronics industry's recognition of fast optics as one of the best ways to test high-speed circuits.
---
Research Collaboration in Leading-Edge Technologies