Introduction
The National Science Foundation (NSF) created the Science and Technology Centers (STCs) in 1989 to initiate a new approach to solving complex problems. The STCs were formed to help maintain U.S. pre-eminence in science and technology and to ensure the requisite pool of scientists with the quality and breadth of experience required to meet the changing needs of science and society. The nature of these problems demands a coherent, long-term approach to basic research that breaks down traditional barriers between disciplines. As a result, the STCs have created an interdisciplinary network of scientists and engineers from academia, national laboratories, and industry to focus on important areas of scientific research. The 25 STCs cover research in areas as diverse as astrophysics, biotechnology, cognitive science, climate modeling, superconductivity, optics, advanced computer design and analysis, and material science.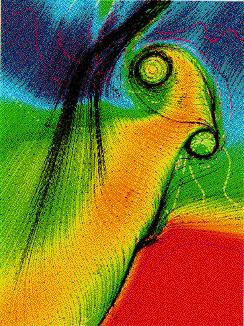 A three-dimensional, scalable-parallel thunderstorm model captures an incipient tornado forming near the ground - Center for Analysis and Prediction of Storms

The STCs are making important contributions in science and technology that would not have occurred in the absence of their creation. Collaborative research leads to an integration of ideas and to new connections between the theoretical foundation of an idea and its commercial application. As a result, new patents in critical areas have been acquired and licensed to industry. American businesses have entered into new areas of collaborative research and new high-technology companies have been created.

In their relationship with industry, the centers have undertaken research efforts in areas that are important for future economic competitiveness. These efforts include developing and using new technologies, developing new educational programs (including K-12 activities), and transferring information and technology to other researchers and the public. In a few short years, the STCs have altered the way member scientists and engineers approach research problems, educational programs, and societal needs.

Educational programs in the STCs facilitate knowledge transfer by bringing center students to industry and industrial researchers to the university. This cooperation quickens the development of new technologies and methods and increases their availability. A new generation of well-trained students are the centers' most important product, bringing new approaches and techniques to industry. By transferring knowledge through people, the STCs can provide industry with a highly skilled work force that has experience with emerging technologies.

The National Science Foundation's Science and Technology Centers are vital to maintaining U.S. pre-eminence in science and technology and to training the pool of scientists needed for this task. People are by far the centers' most important product.

This brochure provides a sampling of knowledge transfer programs, highlighting the diversity and strength of research that is disseminated through the STCs. For additional information, a list of contacts for each of the centers is provided at the end of this brochure.
---
Table of Contents