Biotechnology and Biomedical Imaging
Biotechnology and biomedical imaging are high-growth industries and the research objectives of companies in these fields are well represented among the STCs. Researchers at the Center for Magnetic Resonance Technology for Basic Biological Research work with associates at General Electric, Medical Advances, and Varian Associates on software and instrument design and construction for magnetic resonance imaging (MRI) and spectroscopy systems. In collaboration with industry, the center is also building a new generation of self-shielding MRI spectroscopy magnets. These magnets will be essential to the design of the world's highest field spectrometer for molecular structural studies.

Researchers at the Center for Engineering Plants for Resistance Against Pathogens (CEPRAP) and its corporate associates are investigating the mechanisms underlying the susceptibility and resistance of crop plants into plant pathogens: specific viruses, bacteria, fungi, and nematodes. CEPRAP is engineering plants to create new genes for resistance against pathogens, which offers the prospect of reducing the dependency of crop agriculture on pesticides and improved food safety.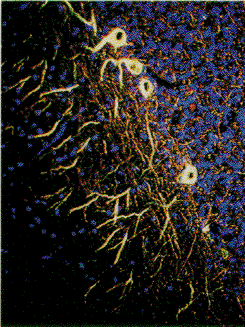 Tissue section of human brain cerebellum labeled with antibodies (colored with fluorescent dyes) that detect specific classes of proteins in nerve cells - Center for Light Microscope Imaging and Biotechnology

In the field of microscopic imaging and biotechnology, researchers at the Center for Light Microscope Imaging and Biotechnology have been central to the development of several commercial products. Working with Biological Detection Systems Inc., scientists have developed a multi-mode microscope workstation with robotic control and advanced image processing. They have also perfected brighter, more photostable fluorescent dyes that set the standard in the fluorescence detection market and are now available from numerous antibody supply companies. Scientists at the Center for Molecular Biotechnology are developing tools to analyze complex biological systems and networks. These tools include new ways to analyze and interpret the information content of biological molecules such as DNA and proteins. Successfully commercialized products originating from center research include Gel Analysis Laboratory software (by Molecular Dynamics) and gel electrophoresis apparatus (by Bio-Rad).
Superconductors
The creation of efficient, economical superconductors will have a significant impact in many industries. The Center for Superconductivity is committed to providing a knowledge base for industry researchers to create commercially viable superconductors. Center researchers have already discovered a new class of superconducting materials and have collaborative research activities with scientists in industry throughout the United States. The center develops new composite materials for magnet, wire, magnetic levitation, and electrical power applications, and is a world leader in developing processes for growing thin films of high-temperature superconductors. These thin film processes have spurred joint ventures with Emcore, Westinghouse, and Amoco.

The Center for High Pressure Research interacts with physicists from Brookhaven National Laboratory and IBM in synthesizing potential high-temperature superconductors. They are also active in characterizing the fundamental properties of these materials.

New products and technologies originating from STCs are used by government and in the comercial sector.
---
Research Collaboration in Leading-Edge Technologies