UNDERGRADUATE EDUCATION
Research Opportunities
Opportunities for research are important parts of many STC efforts in undergraduate education. Research has a two-fold benefit for undergraduates-they gain valuable experience that can strengthen their job and graduate school possibilities and can become inspired to pursue further study by finding out what scientific research is like.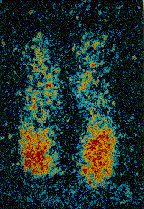 An image of "in situ hybridization of mRNA in a hypothalmus" from the Center for Biological Timing. Annually during the summer, th center offers udergraduates ten weeks of laboratory research experience under the guidance of a center researcher.
What makes many of the STC undergraduate research programs unique is that undergraduates are important parts of research teams involved in advanced scientific work. Undergraduates join ongoing projects as well as pursue independent projects under the guidance of STC researchers. These research experiences incorporate all the elements of a quality research environment, including data collection, analysis, and formal presentation of results to other scientists. The programs mentioned below exemplify some of the many successes that the STCs have had in using research experience to attract undergraduates to careers in science.
Twenty-one undergraduates (including nine women and two minorities) are involved in all phases of work at the Center for Magnetic Resonance Technology for Basic Biological Research. They help to design, construct, and run nuclear magnetic resonance (NMR) probes and synthesize magnetic resonance contrast agents for use in center experiments. Since most of the undergraduates work with the center for two years, this research experience is a significant part of their undergraduate education. Many of these students are co-authors with center researchers on published scientific papers and some students have presented their work at national and international conferences. All of the program's past participants have gone on to pursue some form of graduate study.
Undergraduate students from the University of Rochester and other colleges and universities are regular participants in research at the Center for Photoinduced Charge Transfer. Some students have worked during the summer in industrial research laboratories at Eastman Kodak and Xerox, which are participating sites in the STC. One participant noted, "This research experience enhanced my laboratory skills and helped me make an important decision regarding my career goals."
A workshop for undergraduate architecture students by the Center for Astrophysical Research in Antarctica (CARA) offers an interesting example of problem-centered research. The students had entered an NSF competition to design an exploration station close to the South Pole. CARA's Polar Operations team gave the students knowledge based on the team's own experiences of what it is like to build a scientific laboratory at cold, remote locations.
The Center for Advanced Cement-Based Materials works closely with its industrial affiliates and local industry leaders to expose students to research experiences in both the academic and industrial atmosphere. Students spend a portion of their time in the laboratories of local companies. The remaining time is spent working on research projects in center laboratories, where they work closely with center faculty, postdoctorates, and graduate students.
Two programs at the Center for Synthesis, Growth, and Analysis of Electronic Materials pair undergraduates with graduate mentors to work on independent projects in material engineering. In the SPEAR (Summer Program in Education and Research) program, students from Texas colleges and universities spend nine weeks in the summer working with graduate students at the center on specific projects such as writing computer programming code for a theoretical modeling project or designing and building a semiconductor laser. The UREP (Undergraduate Research Experience and Practice) program is like SPEAR, but spread out over the academic year. Pamela Cook, educational coordinator at the STC, notes that the experience benefits everyone. "Our graduate students always rise to the challenge and end up being better teachers and better scientists for their efforts."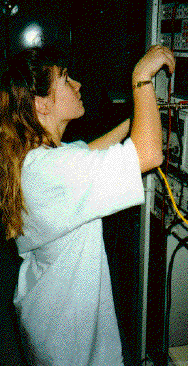 At the Center for Synthesis, Growth, and Analysis of Electronic Materials, undergraduates work on independent projects in material engineering, consulting with graduate students who serve as mentors.
Curriculum Development and Degree Programs
With the constant flow of new scientific discoveries today, it is important to update undergraduate curricula to reflect these changes. STC researchers collaborate with university faculty at colleges and universities across the nation to highlight current scientific developments in undergraduate curricula.

STC researchers, for instance, have introduced many new courses at Stheir own institutions:
STCs reach a large number of undergraduates through courses at their participating universities. Faculty at the Center for Computer Graphics and Scientific Visualization teach more than 40 courses a year to students at Brown University, Caltech, Cornell University, the University of North Carolina, and the University of Utah. Similarly, faculty from the Center for Research on Parallel Computation teach parallel computing and computational science courses at several of its sites, including Caltech, Rice University, Syracuse University, and the University of Tennessee.

At the Center for Research on Parallel Computation's University of Maryland affiliated site, undergraduates entered a "Mobile Robot Competition" as part of their artificial intelligence and robotics course.

The Center for Photoinduced Charge Transfer supports different levels of courses and seminars. An introductory course on photoinduced charge transfer research is offered every summer for undergraduate research students as well as high school teachers, and new graduate students. Special topic courses are offered that are based upon current theoretical and experimental work, including that of visitors to the center. Finally, a seminar series presents short-term visitors reporting on the latest advances in the field. In all of these courses, university and industrial scientists are actively involved as teachers.
The Center for Magnetic Resonance Technology for Basic Biological Research has introduced four new lecture courses, two seminar courses, and three new laboratory courses involving 11 members of their faculty and staff. These courses are available to graduate and upper-level undergraduate students for academic credit. Seminar courses involve co-sponsorship of outside invited speakers, who address topics in a wide range of research disciplines related to the center.
STC researchers work with faculty from outside their home institutions to introduce new course material as well:
The Center for Advanced Cement-Based Materials (ACBM) offered a two-part workshop, the goal of which was to target undergraduate faculty and enhance their capabilities to teach civil engineering using an interdisciplinary materials science approach. In 1993, faculty from 22 states and 37 colleges attended. Top academic researchers from a wide array of disciplines and universities as well as industrial leaders in the cement and construction industry made presentations. In 1994, a two-day conference will assess the impact of the teaching program on the participants and their students. One participant, A.E. Fiorato of the Portland Cement Association, commented on the program by saying, "The interaction with ACBM's professor's workshop in cement and concrete was very rewarding. The workshop will provide a significant impetus to curriculum development."
In 1993, a faculty workshop at the Center for High Performance In Polymeric Adhesives and Composites taught faculty how to teach macromolecular chemistry and engineering to undergraduates.
The Southern California Earthquake Center is planning a workshop on undergraduate curricula in the earth sciences. Center scientists will also meet with state and community college instructors in southern California to review the earthquake-related materials in earth science courses.
STCs have also developed computer-based tools for use in undergraduate curricula. The computer is an excellent medium for learning because it allows for greater student interaction and lets students learn at their own pace. At the Center for High Performance Polymeric Adhesives and Composites, undergraduate researchers have developed computer software tools that help to teach scientific concepts. Students have created interdisciplinary, interactive programs on viscoelastic polymers, fracture mechanics, and other topics. Tucker Carlmark, a mechanical engineering major at the State University of New York at Buffalo who created one of the programs, noted that these high-resolution programs have helped to bring advanced scientific visualization into the hands of many undergraduate science and engineering students. "At the present time, students attempt to learn the workings of complex scientific phenomena through still text and images. While computer simulation and modeling programs are used for industrial and research applications, this has been one of the first efforts to incorporate them in the classroom." It is interesting to note that several of the students who created these programs initially had little programming experience but were given training through the help of center staff.

Some efforts at creating new undergraduate courses have resulted in the establishment of entirely new undergraduate degree programs. Examples can be found at the University of Pennsylvania, home to the Center for Research in Cognitive Science. The university's Cognitive and Computer Science Dual Degree Program allows students to achieve both a B.S.E. (or B.A.S.) in computer science and a B.A. in either linguistics, mathematics, philosophy, or psychology. The university also has an undergraduate minor in cognitive science. Many of the center's faculty supervise work-study students through their various laboratories and research projects. On average, more than 60 undergraduates at a time are actively pursuing studies in cognitive science, through the degree program, the minor, or various courses developed by center faculty. In addition to the primary disciplines that make up the Center, the students are drawn from such diverse fields as anthropology, nursing, and South Asian studies.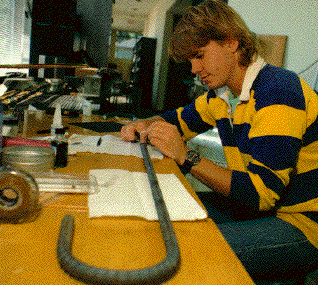 The Center for Advanced Cement-Based Materials works closely with its industrial affiliates and local industry leaders to expose students to reserch experiences in both the acedemic and industrial atmosphere. Students spend a portion of their time in the laboratories of local companies.
Students Helping Students: Teaching Experiences for Undergraduates
When undergraduate students are mentors and teachers for younger students, everyone learns. Younger students learn about new ideas while the older students learn to communicate these ideas effectively. Several STC programs involving K-12 and undergraduate students generate an enthusiasm that is continually reinforced for all of the program participants.

In the "Project SEARCH" program coordinated by the Center for Magnetic Resonance Technology for Basic Biological Research, 52 undergraduates and four professors from the University of Illinois develop and present hands-on science projects for students in five K-6 schools and two after-school programs. The students participate as part of an independent study class. The undergraduates have designed several interesting projects, including a game where the children solve a crime by a "notorious animal gang" by sorting through animal classifications and habitats at the university's natural science museum. These undergraduates also receive a unique educational experience, as they learn to communicate their own love of science to children and primary school teachers. They also get a good hands-on education in issues of science education and its role in society. Very few undergraduate science programs in the nation include such an extensive community service component. Rachel Tappan, a University of Illinois biology major who participated in the program summed up the experience by saying, "I think the kids like seeing science for themselves. It makes the concepts more real to them...I hope it helps the children see how interesting science can be, and that science is more than just facts in a book-it's all around us."

Several other STC initiatives involve undergraduates in K-12 activities. Before they conduct summer research, undergraduates at the Center for Ultrafast Optical Science help center staff to teach K-12 students in the "SummerScience for Girls" program. Through participating in the K-12 program, undergraduates spend the first two weeks of a ten-week research program getting a head start on what material in optics they need to know for their research projects. They then work on specific projects under the direction of mentors. Half or more of the participants have been women or underrepresented minorities.

In a program involving the Center for Research in Cognitive Science, 130 University of Pennsylvania science majors visit more than 700 students in grades 4-8 at 22 Philadelphia schools. The undergraduates act as mentors to the younger students, guiding them through experiments in probability, probabalistic phenomena, and visual and auditory perception.
---
Table of Contents