Collaboration with Teachers
One of the most effective ways of reaching students is by working with their teachers. As Andries van Dam, a principal investigator at the Center for Computer Graphics and Scientific Visualization, notes, "If you want to have an impact on students, you have to excite their teachers. The potential audience is much larger." The STCs devote much of their resources toward working with teachers one-on-one to develop effective approaches to science education and to build teacher awareness of careers in science, engineering, and mathematics. Alternative approaches to teacher development abound in the STC program.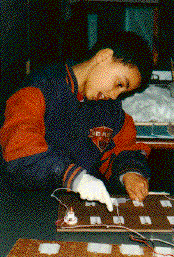 The "Project SEARCH Science Fair" sponsored by the Center for Magnetic Resonance Technology for Basic Biological Research involves faculty and undergraduate students working with area K-6 students and their teachers in hands-on science activities.
Courses, Workshops, and Symposia for K-12 Teachers
Courses at the STCs make science more relevant by helping teachers use the knowledge of leading-edge scientific research in their classrooms. Through these courses, teachers generate new ideas on how the latest technologies and "hot" areas of research in science, engineering, and mathematics are related to concepts in basic science. Making such real-world connections helps teachers to interest and motivate their students.

One program that embodies this idea is the "Geometry and the Imagination" summer course for secondary school teachers given by the Center for Computation and Visualization of Geometric Structures (The Geometry Center). In this unconventional course, participants learn about the mathematical ideas and computational principles behind the computer-generated images and special effects found in movies and music videos. They also learn about modeling specific motion, such as the motion of three planets interacting under gravity. Participants examine the questions of probability and statistics currently reported in the news, such as: "Do electromagnetic fields cause cancer?" or "Do basketball players score in streaks?" The center's "Geometry Room" is used to assist participants with building either physical or computational mathematical models, which are made using everything from papier-mache to popsicle sticks to computer workstations. As one teacher commented about the program, "It changed the way I see things. Now when I look at lettuce leaves, I think of hyperbolic shapes." Since 1991, 30 teachers have participated each summer in the program.

Hénon map created by an undergraduate participating in the Center for Computation and Visualization of Geometric Stuctures' Geometry Center Summer Institute.

Other courses have actively engaged teachers in learning about advanced scientific concepts. The visual attraction of computer graphics was exploited by an intensive three-week summer program for seven high school teacher-student teams at the Brown University site of the Center for Computer Graphics and Scientific Visualization. The workshop introduced concepts in computer graphics and geometric modeling, presenting these areas as motivational tools for the teaching of mathematics. Participants created their own three-dimensional models using modeling software developed at the center's site at the University of Utah. Teachers are now using the materials in a range of courses and special projects including courses in physics, mathematics, and computer science. Sister Mary Catherine Burns, a teacher at the Coyle and Cassidy School in Taunton, Massachusetts noted that the STC's program on three- dimensional modeling helped her to teach mathematics more effectively to her students: "Those students who question the 'why' of mathematics have a new and exciting motivation-math actually is useful and fun." Several students have worked with their teachers to integrate the materials into new curriculum units.

It is important to note that the STCs have an impact on science education through scope as well as innovation. The STCs reach large audiences in the educational community that could not be reached without the coordinated efforts of the centers. For example, the Center for Clouds, Chemistry, and Climate, in collaboration with the Stephen-Birch Aquarium-Museum at the Scripps Institute of Oceanography, sponsored a symposium entitled "Forecasting the Future: Studying Evidence for Global Climate Change," where more than 40 K-12 teachers explored ideas with center researchers in the atmospheric, chemical, meteorological, and physical sciences on how to apply scientific approaches to teach global climate change in their classrooms.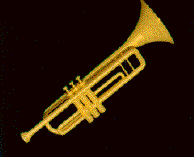 Model created by a high school student at the Center for Computer Graphics and Scientific Visualization's five-week Utah Summer Computing Institute, which is in its fifth year.
Laboratory Experiences
Several STC programs transfer knowledge of current scientific research to teachers by involving them in center research. For example, the Center for Photoinduced Charge Transfer annually hosts high school teachers for eight weeks of summer research. In 1992, ten teachers participated in projects ranging from organic synthesis to the development of activities for a scanning tunneling microscope (STM) to be used in high school science classes. In 1993, the center received 45 requests from high schools and colleges to use the STM. One teacher summed up the summer experience by saying, "I felt privileged to rub shoulders with people in this field. I was impressed by their intensity and love of the work. As a result, I will be in a better position to advise my students about careers in research." For the researchers at the center, it was an opportunity to learn more about the educational needs and interests in their field.

At the Center for Biological Timing, a program for high school teachers emphasizes research experience. Participants attend weekend workshops during the regular school year featuring lectures and laboratory demonstrations and are eligible for fellowships to engage in center research for six to eight weeks during the summer. After their first summer, the teachers can choose to pursue an independent project. Several participants have noted that this research experience was helpful in generating ideas for future lessons and laboratories for their classes.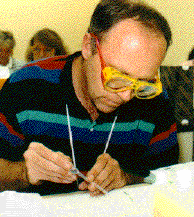 Since 1989, the Center for Superconductivity has conducted 20 workshops in superconductivity reaching 400 teachers. In turn, an even larger audience is reached as the teachers incorporate these workshop experiences and materials into their curricula.
Field Experiences
Teachers get a feel for experimental work in the field as well as the laboratory. The Southern California Earthquake Center is working with the NSF-funded Center to Advance Pre-college Science Education to support three days of field experience for 150 K-6 teachers. With the region's leading seismologists and earthquake educators, the teachers explore urban seismology on Palos Verdes Peninsula near Los Angeles, embark on an overnight expedition to map the wall of a trench across the San Andreas fault, and study surface effects of ground rupture near the epicenter of the 1992 Landers earthquake.

The Center for Microbial Ecology provides state-wide summer field work in Michigan for high school teachers. At the Michigan State University's Kellogg Biological Station, faculty annually conduct a week of field work for 24 high school science teachers from five midwestern states in "The High School Teachers Workshop in Environmental and Behavioral Ecology." In northern Michigan, six Detroit teachers and their students participated last summer in island field work at the Beaver Island Biological Station. Additionally, the Inland Seas Education Association, which is a neighboring Northern Michigan- based organization, will conduct a workshop in 1994 for 12 Detroit inner-city teachers using its newly built "Science Schoolship" in a "maiden voyage."
Long-term Professional Development
Several STC programs are designed to maintain continuing long-term relationships among STC researchers and teachers participating in center programs. Participants in the "Leadership Program" at the Center for Discrete Mathematics and Theoretical Computer Science not only attend residential summer institutes for five weeks, but share ideas and resources at weekend workshops during the school year and by electronic mail on an Internet server. Program director Joseph Rosenstein notes that "teaching can be a very isolating profession. Though viewed as essential for college and university faculty, regular meetings with colleagues who share interests rarely occur for most high school and middle school teachers." As New Jersey high school teacher Ethel Brueche put it, the followup sessions at DIMACS are "where I come to recharge for the semester-this is where I know I can find other teachers who are passionate about mathematics." This ongoing professional support is what gives teachers both the ability and desire to serve as leaders. Program participants not only introduce discrete mathematics topics to their own students and colleagues, but develop and lead workshops for other teachers throughout the country in the "Workshops in Your District" program. They have also developed curricular materials addressing a range of problems in discrete mathematics, from how to find the best route for a Goodwill pickup truck to how to divide an estate fairly. These materials are published in a nationally distributed newsletter called In Discrete Mathematics and are being compiled into a resource book for mathematics teachers of grades 7-12 entitled Greatest Hits in Discrete Mathematics. The program is made possible through additional funding from the National Science Foundation and collaboration with the Rutgers University Center for Mathematics, Science, and Computer Education.

The Center for Ultrafast Optical Science collaborates with Detroit Public Schools (DPS) on two demonstration sites. Middle schools that pilot and model new projects for eventual adoption by all DPS middle schools. Components include teacher training, hands-on science, summer science camps, tours, and curriculum development and supplementation.
---
K-12 Education