Volume 7, Issue 1 -
Spring/Summer 1999
1997 CRPC Annual Meeting
---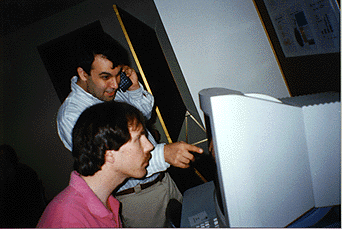 Joel Saltz and Alan Sussman, both of University of Maryland, present "A Data Blade Architecture for Generalized Out-of-Core Reduction Operations."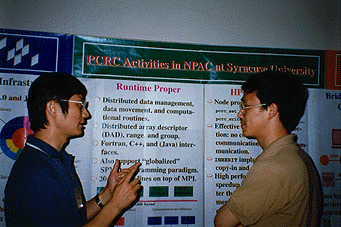 Xiaoming Li of Syracuse University presents "PCRC Activities in NPAC."


CRPC researchers, committee members, advisors, corporate sponsors, and guests from the High Performance Computing Community attended the 1997 CRPC Annual Meeting, held May 21-22 at Rice University in Houston. Attendees used the forum to share current research and ideas through tutorials, presentations, poster sessions, and meetings. For information on program participants and the tutorials, papers, slides, posters, and demos presented, see http://www.crpc.rice.edu/CRPC/AnnualMeeting/1997/schedule.html .
Other Photos from the 1997 Annual Meeting
Click here for the 1997 Annual Meeting picture gallery
---
Table of Contents