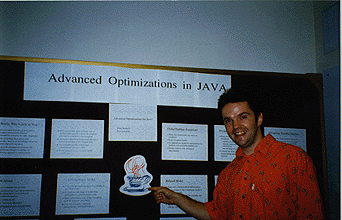 Zoran Budimlic of Rice University presents his poster on Advanced Optimizations in JAVA.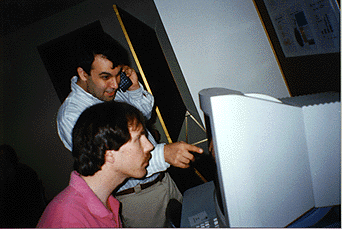 Joel Saltz and Alan Sussman, both of University of Maryland, present "A Data Blade Architecture for Generalized Out-of-Core Reduction Operations."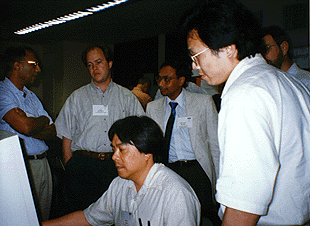 Bruce Char of Drexel University demonstrates "Integrating Symbolic Computation Tools into Scientific Problem Solving Environments" to Mani Chandy (Caltech), Michael Holst (Caltech), Ehtesham Hayder (ICASE), and Lucas Roh (Argonne National Laboratory).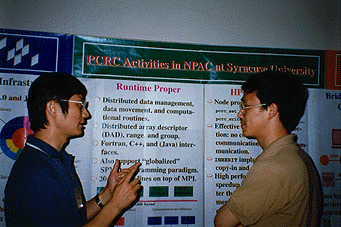 Xiaoming Li of Syracuse University presents "PCRC Activities in NPAC."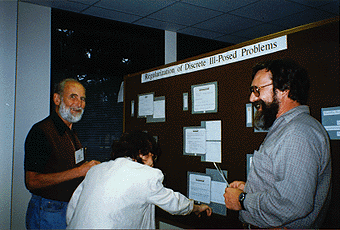 Marielba Rojas discusses "Regularization of Discrete Ill-Posed Problems" with (left) Herb Keller (Caltech) and Dan Sorenson (Rice).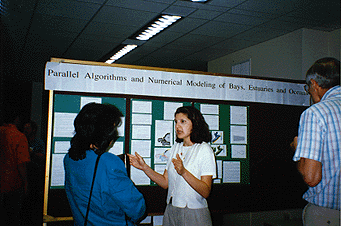 CRPC External Advisory Committee member Ruth Gonzalez (Exxon Production Research Company) listens as Monica Martinez of the University of Texas at Austin describes "Parallel Algorithms and Numerical Modeling of Bays, Estuaries, and Oceans."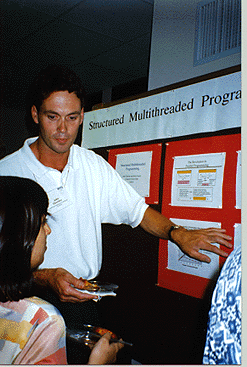 John Thornley of Caltech presents to Sarita Adve (Rice) his poster on "Structured Multithreaded Programming for Shared Memory Multiprocessors."

For abstracts of Annual Meeting posters and demonstrations and information on presenters, please visit