Volume 7, Issue 1 -
Spring/Summer 1999
CRPC HELPS "EXPAND THE HORIZONS" OF MIDDLE-SCHOOL GIRLS
The CRPC provided participant financial support for 25 teachers and their students to attend the third annual "Expanding Your Horizons in Science and Mathematics" Conference on March 4 at the Rice School/La Escuela Rice, in Houston. About 500 Greater Houston middle-school girls of diverse races and backgrounds attended math/science workshops given by successful females in those fields. Teachers and counselors learned how to recognize and eliminate gender inequities in the classroom, how to boost student self-esteem, and how to guide middle-school girls in selecting courses that will prepare them for math/science careers.
CRPC presenters included Linda Torczon and Sara Carlstead ("Surfing the Internet"), Debbie Campbell ("Electricity and You" and "Amplifying Your Knowledge of College"), and Cynthia Lanius ("Teacher- Friendly and Kid- Friendly Geometry"). Debbie Campbell, summarized her feelings about participating: "It means so much to us to spend the day with these girls, because when we were growing up, there was nothing like this."
The EYH Conference was organized by the West Houston Branch of the American Association of University Women (AAUW). CRPC plans to repeat its support of the event next year.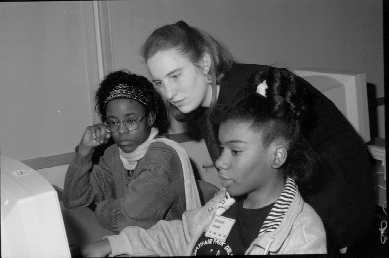 Sara Carlstead, a Rice University undergraduate in computer science, works with middle-school students in the Expanding Your Horizons Workshop.
---
Table of Contents