Volume 7, Issue 1 -
Spring/Summer 1999
InfoMall Breaks Ground
InfoMall, a new program created by Geoffrey Fox, CRPC researcher and Director of the Northeast Parallel Architectures Center (NPAC) at Syracuse University, plans to accelerate development of the high- performance computing and communications (HPCC) software and systems industry by putting the nation's best available HPCC technologies into the hands of businesses and entrepreneurs.
To achieve this goal, InfoMall has established an alliance of 25 participant organizations from academia, industry, and government to integrate existing and developing technologies and to help get new products to market. Customers will be able to find education, training, and consulting services in one place. Small and medium-size companies can use these resources to find funding sources, form business alliances, and develop and market products. "InfoMall is providing these companies with services that are usually available only to larger corporations," stated Fox.
InfoMall is patterned after a shopping mall with a nucleus of "shops," where shoppers may "browse" for the best solution to a particular problem. However, browsing in this "mall without walls" means visiting the NPAC or one of the InfoMall vendors or connecting to InfoMall's electronic network. The shoppers are from industry, academia, and government. Software developers interested in high-performance computing are customers as well as vendors.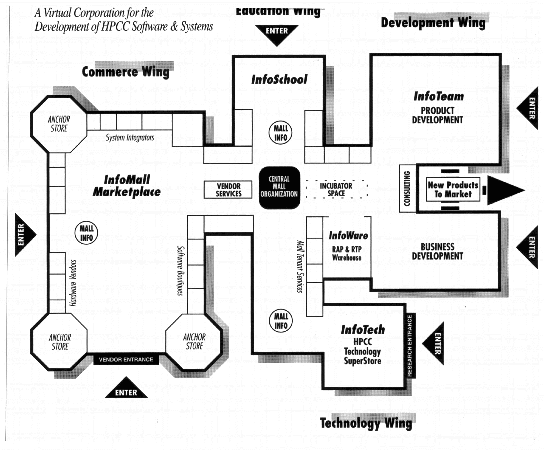 The CRPC will play a vital role in this process by managing InfoTech-- the core InfoMall program for gathering, evaluating, and integrating the world's best HPCC technologies for use in new HPCC products. The range of technologies is broad, including collaboration technologies, heterogeneous computing architectures, parallel database systems, parallel grid generation software, programming languages, communication networks, numerical solvers and methods, image databases, system integration software, and virtual reality.
"Within the next 10 to 15 years," Fox stated, "these information technologies will have an impact on nearly every segment of society-- health care, social services, retail, finance, entertainment, and education...The market value for HPCC products will be enormous."
Consumers of InfoMall products have different needs and shop in different parts of the mall. Industry managers might go to the InfoSchool training courses and workshops offered in the education wing. Software companies may seek out a combination of off-the-shelf technologies and emerging technologies that have not yet reached the marketplace, but are available through InfoTech. Large corporations can visit InfoMall to develop new markets for products enhanced by HPCC technologies.
Product development takes a dynamic form at InfoMall. "Virtual corporations" consisting of InfoMall participants are being formed to develop solutions to problems that cross disciplines and industries. "For example," Fox explained, "if a software product requires integration of a design object database, a visualization system, and an optimization component, InfoMall may bring together four small companies to form a virtual corporation for this product."
Established in July 1993, InfoMall and its partners already support more than 25 major applications and technology projects. Several parts of the program are underway with existing funding--an image-on-demand project with Kodak, a health care fraud detection project with Booz-Allen & Hamilton, a tele-medicine project with the Veterans Administration, and a parallel geographic information system project with IBM. Additional projects in education, "edutainment," and finance are under consideration. In each case, InfoMall will form InfoTeams of small and large businesses and of university and industry professionals to address technology, business, and market issues associated with developing new HPCC software products.
High-performance computing promises tremendous economic growth. It has been supported by every major computer hardware company, by foreign research initiatives, and by the federal government through the HPPC Act of 1991. InfoMall participants expect that the HPCC technologies alone will bring in $100 billion to the American economy by the year 2000. InfoMall's goals are currently set on stimulating development within New York state, but as the industry grows, so will the InfoMall program, to provide for the industry's knowledge transfer needs on a national scale.
To find out more about InfoMall, contact Deborah Jones at the Northeast Parallel Architectures Center, Syracuse University, 111 College Place, Syracuse, NY 13244-4100 (315) 443-4052, (315) 443-9730 (fax), InfoMall@npac.syr.edu .
---
Table of Contents