Volume 7, Issue 1 -
Spring/Summer 1999
CRPC SUPERCOMPUTING '94 BOOTH AND EVENTS REACH OUT SUCCESSFULLY TO NATIONWIDE VISITORS
Almost 6,000 people attended SUPERCOMPUTING '94, held at the Washington Convention Center in Washington, D.C. on November 14-18, 1994. Many of the attendees visited the 900 square-foot CRPC research exhibit. Associated exhibits presented by Caltech and Argonne, Oak Ridge, and Los Alamos National Laboratories featured CRPC projects as well. Fifty-two CRPC members attended the conference, conducting two roundtables and three tutorials and presenting seven technical papers, seven computer demonstrations, and one poster session. The CRPC research exhibit featured demonstrations, posters, and videos on recent developments in parallel programming tools, compilers, numerical methods, and applications.

Because of the success of previous SUPERCOMPUTING exhibits, CRPC plans to exhibit at SUPERCOMPUTING '95, which will be held in San Diego, CA, December 4-8, 1995. "The SUPERCOMPUTING conferences have always been one of the best arenas for communicating with the rest of the HPCC community and the CRPC will continue to play a large role at this event," said CRPC Director Ken Kennedy.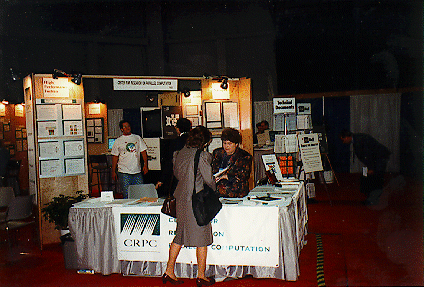 Kathy El Messidi, the CRPC's new Associate Director for External Relations, talks with one of several SUPERCOMPUTING '94 attendees who visited the CRPC research booth.
---
Table of Contents