Volume 7, Issue 1 -
Spring/Summer 1999
Parallel Profile: William W. Symes
Professor, Computational and Applied Mathematics, Rice University
---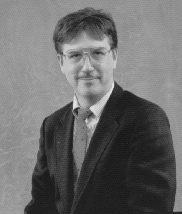 Bill Symes is director of the Parallel Computation for Seismic Inversion subproject of the Geosciences Parallel Computation project. His work focuses on the improvement of reflection seismic data processing through development of new algorithms and employment of parallel computation. His recent work includes the study of velocity inversion using the differential semblance criterion. This approach to velocity estimation analyzes image volume moveout to derive velocity updates, and is one of very few techniques to move beyond quality control of migration velocities to direct numerical estimation. Symes' group is also involved in other aspects of multi-offset seismic reflection inversion, such as source estimation and multiparameter inversion for rock properties. Parallel computation and work with field data are important components of this effort.

The group's work is also supported by The Rice Inversion Project (TRIP), an industrial research consortium with eight oil and computer industry sponsors in 1994. TRIP was established with the goal of demonstrating the technological potential of seismic inversion.

Symes has been at Rice as a professor since 1983. He has also been on the faculty of University of British Columbia and Michigan State University, and has been a visiting faculty member at Cornell University and the University of Wisconsin. He received his Ph.D. in mathematics from Harvard University in 1975. He is an associate editor of the SIAM Journal on Applied Mathematics.
---
Table of Contents