Volume 7, Issue 1 -
Spring/Summer 1999
CRPC Researchers Awards and Honors
Herb Keller was chosen to be the recipient of the 1994 Theodore von Karman Prize by SIAM. The von Karman Prize is awarded for a notable application of mathematics to mechanics and/or the engineering sciences.
Stefan G. H. Vandewalle (appointed October 4, 1993) and Michael J. Holst (appointed 9/1/93) were each awarded a Prize Fellowship in Concurrent Computing by the California Institute of Technology. The fellowships were established to support young scientists interested in scientific computing, numerical analysis, and concurrency.
Andrew J. Conley was named the Wilkinson Fellow for 1993-94 by Argonne National Laboratory. The Wilkinson Fellowship is intended to support young scientists actively engaged in state-of-the-art research in scientific computing.
David Andrews was awarded the first annual Alan Weiser Fellowship by the CRPC at Rice University on November 4, 1993. Andrews is a participant in the university's Computational Science and Engineering Graduate Degree Program and is affiliated with the statistics department.
---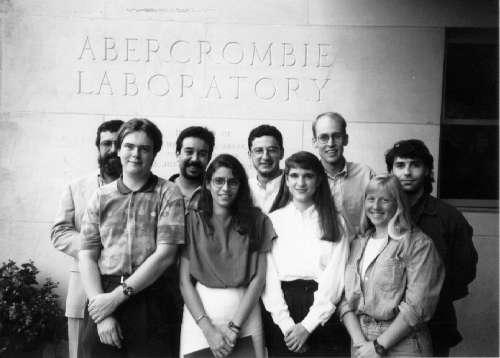 1993-94 Participants in the Computational Science and Engineering (CSE) Graduate Degree Program at Rice University. Front row (from left to right): Joakim Blanch, Marielba Rojas, Carol San Soucie, Laurie Feinswog. Back row: Dan Sorensen (CSE program organizer), Hector Klie, Richard Lehoucq, David Andrews (Alan Weiser Fellowship recipient-see awards), David Serafini.
---
Table of Contents