Volume 7, Issue 1 -
Spring/Summer 1999
Call for Participation -- SUPERCOMPUTING '93
The Conference on High Performance Computing and Communications Portland, Oregon November 15-19, 1993 Sponsored by ACM SIGARCH and the IEEE Computer Society
---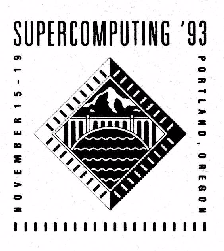 You can become a part of SUPERCOMPUTING '93, the fastest-growing conference in high performance computing and communications. We invite you to submit a paper or a proposal for a panel, workshop, tutorial, research exhibit, or poster. For additional information, request a SUPERCOMPUTING '93 Call for Participation by calling 1-800-GO-2-SC93 (1- 800-462-7293) (phone and fax). Current conference information is available through anonymous ftp at SC93-info.llnl.gov.
Submissions for papers, panels, posters, and research exhibits should be sent to: Dona Crawford, Program Chair, SUPERCOMPUTING '93, Sandia National Laboratory, D1900, Livermore, CA 94551-0969, 510-294-2628, 510- 294-3422 (fax), dona@sandia.llnl.gov .
Submissions for tutorials and workshops should be sent to: Joanne Martin, Tutorials and Workshops Chair, SUPERCOMPUTING '93, IBM Corporation, MS 601, Neighborhood Rd., Bldg. 201, Kingston, NY 12401, 914-385-9572, 914-385-1395(fax), j1mart@kgnvmz.vnet.ibm.com .
Proposal deadlines:
April 1, 1993: Papers, panels, tutorials, and workshops >
June 1, 1993: Heterogeneous Computing Challenge (part of the research exhibits) >
August 2, 1993: Posters, video posters, and research exhibits
Student volunteers, contact:
Michael Cox Northwest Regional SuperQuest Center 503-642-2727, mcox@cse.ogi.edu .
Exhibit space, contact:
Don Collier DC Expositions, Inc. 214-727-8301, collier@convex.com .
---
Table of Contents