Volume 7, Issue 1 -
Spring/Summer 1999
Argonne Workshop Explores Construction of a National Computational Grid
---
Researchers from diverse disciplines within the high-performance computing community recently attended a workshop at Argonne National Laboratory (ANL) to discuss the challenges involved in constructing a national computational grid. Held September 8-10, "Building a Computational Grid" focused on the latest technologies, inherent problems, and future directions that need to be addressed in the development of a successful geographically distributed system.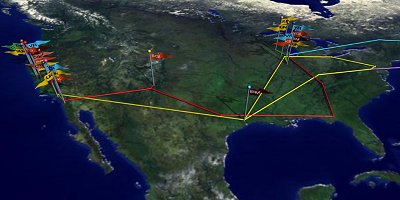 Workshop organizers Ian Foster (ANL) and Carl Kesselman (Caltech) are leaders of The Globus Project, an effort to develop a computational grid that will use high-speed networks to connect supercomputers, databases, scientific instruments, and advanced display devices across the country. The project will enable new classes of high-performance applications that require unique capabilities not available in a single computer or at a single site. (See "Research Focus," Spring 1997 Parallel Computing Research, page 8.) Foster will demonstrate the project at the CRPC booth at SC97.
"The technical challenges raised by computational grids lie at the intersection of multiple fields and include aspects of high-performance computing, high-speed networking, databases, and distributed computing, as well as various application domains," says Foster. "Historically, these disciplines have been quite distinct and communication has been rare. By bringing together key players for a focused meeting, we were able to encourage interactions, promote understanding of research challenges, and generate enthusiasm for work in this important field."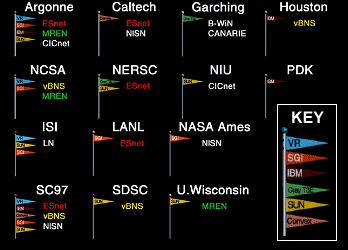 More than 70 participants attended 21 talks by experts in different areas of distributed computing. Each talk was followed by a period of open discussion. Areas covered included an introduction to grid technologies, applications, infrastructure, services, resource management, programming tools, and existing testbeds. Presenters from the CRPC included Jack Dongarra (University of Tennessee), Foster, Geoffrey Fox (Syracuse University), Dennis Gannon (Indiana University), Ken Kennedy (Rice University), Kesselman, Paul Messina (Caltech), Dan Reed (University of Illinois), and Rick Stevens (ANL). CRPC External Advisory Committee member Fran Berman (University of California, San Diego) was also a presenter. In addition, the IBM SP at The University Of Houston is being incorporated in the Globus testbed.
One of the key purposes of the workshop was to solicit contributions and reviews for a book Foster and Kesselman are editing on computational grids. "A critical challenge in any workshop of this sort is documenting the discussions and communicating them to a broader audience," says Foster. "We addressed this challenge head on by making the preparation of a book a primary outcome." This book will be published by Morgan Kaufmann and is scheduled for release in August 1998.
The workshop was sponsored by DARPA, DOE, NASA, and the NSF.
For more information on The Globus Project, see http://www.globus.org.