Quantum Chromodynamics\
Rajan Gupta and Ralph Brickner, Los Alamos National Laboratory; Greg Kilcup, Ohio State University; Steve Sharpe, University of Washington; Apoorva Patel, Indian Institute of Science
---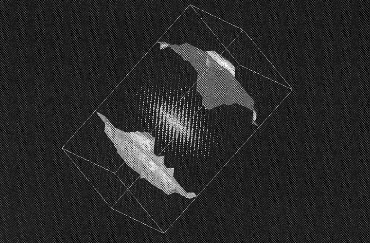 A pion propagator calculated from a quantum chromodynamics simulation run on a Thinking Machines Connection Machine. The magnitude of the propagator is averaged over z, and plotted as a function of x, y, and t (the long dimension).
Quantum chromodynamics (QCD), a well-defined mathematical theory describing the interactions of nuclear matter such as quarks and gluons, produces some of the most computationally intensive problems known to the physics community. Even with today's powerful high-performance computers, scientists must develop algorithms that efficiently utilize a machine's capabilities. Researchers at Los Alamos National Laboratory have built upon the rapid progress in numerical solutions in the last ten years to develop highly optimized codes for running QCD simulations.
The QCD group has conducted research with the following goals: optimize the calculation of the physical numbers; explore algorithmic results to improve the efficiency of the computations; compare results with those from other researchers to understand the dynamics of QCD; and use knowledge from results to prepare for more complex calculations that will be possible on the next generation of high-performance computers. The group has collaborated with researchers from Thinking Machines Corporation, implementing codes on the CM-2 and CM-200 located in the Advanced Computing Laboratory at Los Alamos. Algorithms and software were developed that were six times faster than software provided by the manufacturer.
Current work has resulted in QCD codes with dynamical fermions and a five-fold speedup in the matrix inversion part of the code. Continuing goals include performing calculations to provide stringent tests for QCD and particle interaction modeling, extracting maximum performance from available systems, and stimulating the growth of new computer architectures and the software to exploit them. For example, current work includes writing a new generation of QCD codes for the CM-5, incorporating advanced algorithms and highly tuned software for compute- intensive kernels.
---
Table of Contents