SC-COSMIC-ADMI98
Photo Gallery One
Click on photos with blue border to view a larger version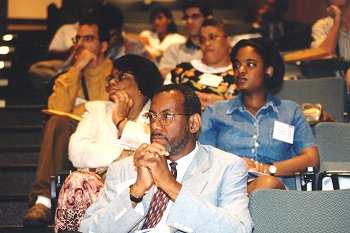 SC-Cosmic Keynote Speaker Roland Smith, Associate Provost, Rice University; and audience members.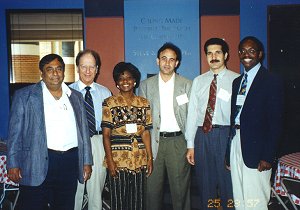 Left to right: Ratan Guha (UCF); Andre de Korvin (UHD Professor); Deidre Williams (FAMU Assistant Professor); Ali Berrached (UHD Assistant Professor); Mohsen Beheshti (UHD Assistant Professor); and Orville Bignall (GSU)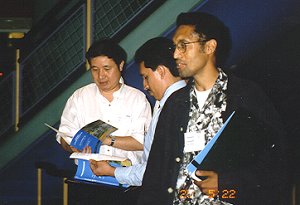 Left to right: Chenyi Hu, UH-D; and Rice Students Pedro Sepulveda, Stanford Carpenter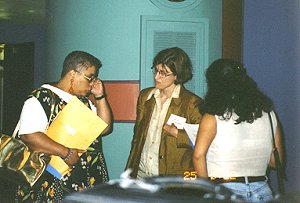 Bonnita Ellis (left), Assistant Professor, City Colleges of Chicago; and Janice Bordeaux, Adjunct Assistant Professor of the Psychology Department at Rice University; discuss SC-COSMIC Conference events.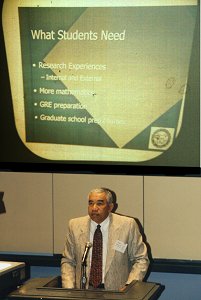 Robert Willis presents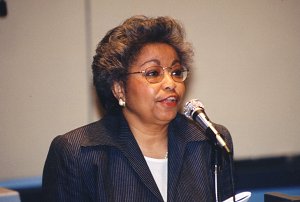 Vivian Fielder, Fisk University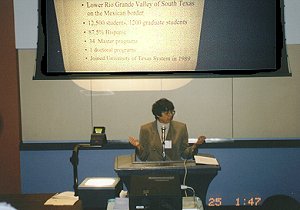 Pearl Brazier, Chair of the Department of Computer Science at University of Texas - Pan American discusses implementation of graduate programs at minority institutions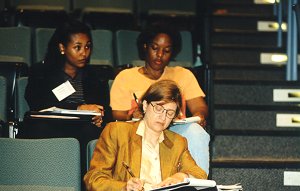 Cassandra McZeal and Pamela Williams, Rice University Spend a Summer with a Scientist (Sas) students; and Janice Bordeaux taking notes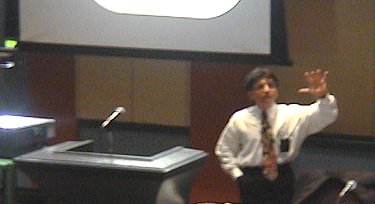 Richard Aló presents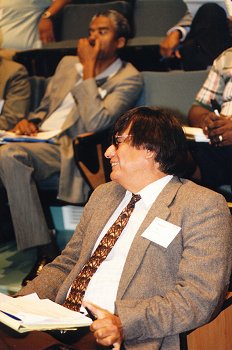 Richard Tapia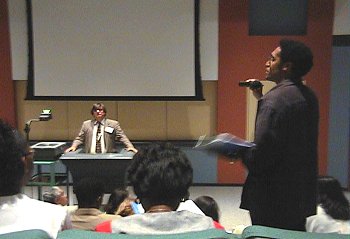 Rice University Student Stanford Carpenter participates in discussion section, led by Richard Tapia (left)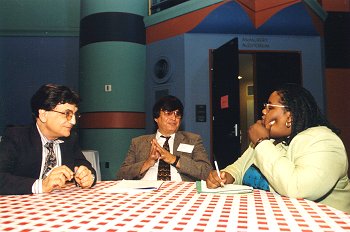 Lori Daugherty, Houston Sun reporter, interviews Richard Aló and Richard Tapia.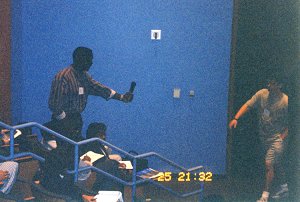 Philip Blaiklock (right), Technical Coordinator, CRPC, mans the mike.
Breakout Sessions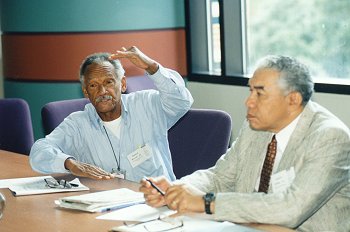 Left to right: Robert Powell of the Practical Science Institute, Houston, and Bob Willis, Hampton University, Hampton, Virginia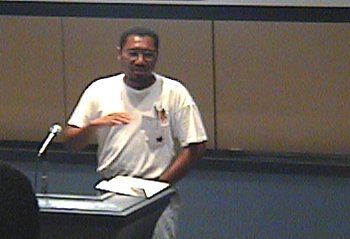 Rice University SaS student Bill Christian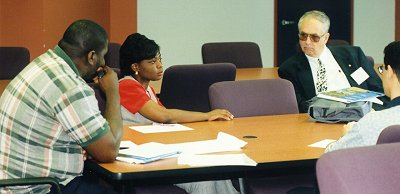 Left to right: Rice Student Illya Hicks; Deidre Williams, Florida A&M University; and Dr. Jerry Engel, University of Connecticut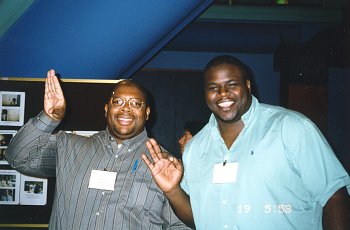 Left to right: A cheery greeting from Rice SaS students Donald Williams and Illya Hicks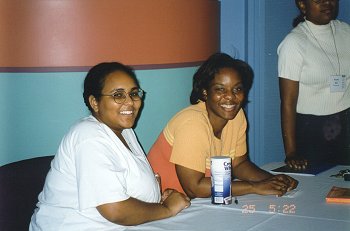 Sheila Moore and Pamela Williams help at the June 25th Conference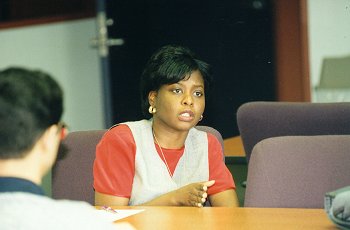 Deidre Williams, Florida A&M University Assistant Professor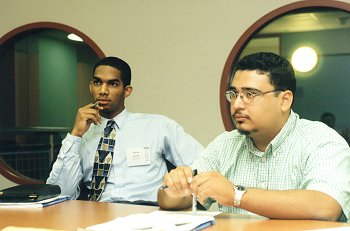 Left to right: Derek Avery and Luis Melara, Rice University graduate students
University of Houston-Downtown Houston PREP program students attend Rice SaS Student presentations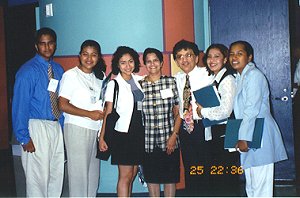 Left to right: Nandan Gad (high school senior); Rebecca Mata (UH-D undergrad CS student); Angela Martinez (recent high school graduate); Sangeeta Gad (UH-D CCSDS Director for Recruitment and Retention); Richard Aló (UH-D Executive Director, Center for Computational Science and Advanced Distributed Simulation); Olga Beiza (UH-D undergrad CS student); and Marvelia Rocha (UH-D undergrad CS student)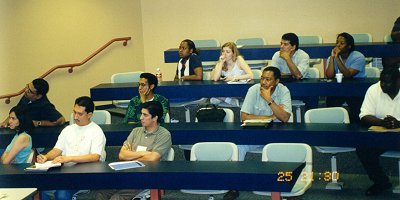 SaS students listen to their peers present on their experiences as minorities and their research. From left to right: (bottom row) Christina Villalobos, Pedro Sepulveda, Ricardo Vargas, (second row) Luis Melara, Stanford Carpenter, Bill Christian, Illya Hicks, (top row) Regina Hill, Diane Jamrog, Carlos Uribe, and Pamela Williams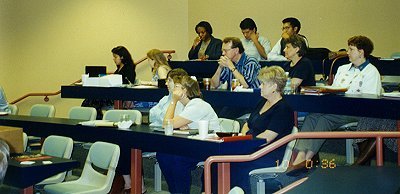 UH-D Houston PREP Program Teachers and Rice SaS Students hear presentations by SaS students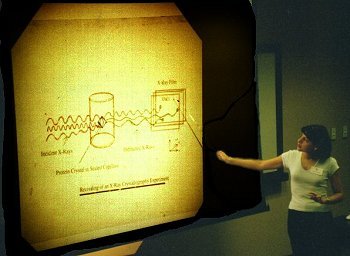 Rice SaS Student Leticia Velazquez-Martinez describes her research to UH-D Houston PREP students and teachers during a special workshop held on June 26 as part of the ADMI 98 -- Assessment and Vision Conference. Leticia is a student of computational and applied mathematics and is pursuing a Ph.D. at Rice University.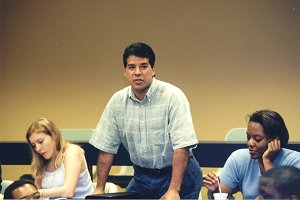 Left to right: SaS students Diane Jamrog, Carlos Uribe, and Pamela Williams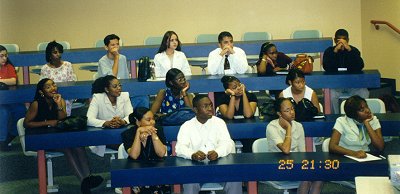 (This and below images) UH-D Houston PREP program students attend Rice SaS Student presentations, June 26
[Gallery 1 Gallery 2 Gallery 3 Gallery 4]

Updated by Philip Blaiklock (philipb@cs.rice.edu)
http://www.crpc.rice.edu/CRPC/Images/SC-COSMIC-ADMI98/gallery1.html