Recruitment Initiative Sees Progress
From: Rice News, January 22nd, 1998
EEOP, AA Programs
Bringing Minority
Candidates to Rice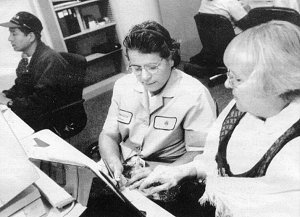 Photo by Jeff Fitow
Ellen Butler, executive assistant in CRPC, right, helps Francisca Castillo, custodial staff member, upgrade her computer skills. Butler volunteers her lunch hour to provide clerical and computer training for employees in Facilities and Engineering.
A new recruitment initiative proposed by Catherine Keneally, director of Equal Employment Opportunity Programs and Affirmative Action, and funded by Rice President Malcolm Gillis at the beginning of 1997, has achieved measurable progress in identifying and recruiting highly qualified minority candidates for staff positions in the professional and secretarial categories.
Sharon Bush, who was appointed as staff recruiter in January 1997, works to create a liaison with Houston minority community leaders to seek their help in referring and encouraging minorities to apply to Rice.
The response has been enthusiastic. People are beginning to tell others that they are welcome at Rice and that their applications will be seriously considered. Since the program began, eight minority applicants have been placed in professional and secretarial regular positions and 12 have been placed in long-term temporary slots. In addition, Bush has assisted three minority Rice employees in obtaining promotions within their own departments.
Sam Osemene is a new Rice employee who can attest to the success of the effort. Osemene, who is the departmental administrator for ecology and evolutionary biology said, "From my own experience, increasing opportunities for minorities on campus is a collective responsibility. You have to have someone looking for people to give opportunities to, and then you need to have an atmosphere where those people are given support, assistance and encouragement in order to do a good job. The effort is definitely being made here, and I believe Rice is on the right track."
Ronald Sass, chair of ecology and evolutionary biology, acknowledged that Osemene's addition to the staff has "increased the cultural diversity and richness of the department. Sam was brought to my attention by the EEO/AA of fice and he was by far the best qualified of the applicants I had available. He brought excellent educational qualifications in economics and finance as well as an impressive work record in budget management and operation of a scientific department in another institution. He does a super job for us within the department and has given the department a very positive image throughout the university."
In addition to the "official" university efforts in this area, several individual Rice employees have taken it upon themselves to help out where they see a need. For example, Ellen Butler, executive assistant in the CenterforResearch on Parallel Computation, volunteers her lunch hour to provide clerical and computer training for custodial employees in Facilities and Engineering. The training includes developing accurate typing skills, increasing proficiency in Microsoft Word, Excel, and the Internet, and instruction on how to properly complete various university administrative forms.
Butler said she observed custodial staff doing an outstanding job but not utilizing the many talents they obviously had.
"It occurred to me that I could at least teach them how to type during their lunch hour," she said. "After they learned the typing, I asked them if they would like to develop computer skills. They readily agreed."
One of the custodial staff Butler worked with was Veronica Bernal, who was recently promoted from a campus custodian to work control coordinator in Facilities and Engineering as a result of this training program.
"Being in a custodial position often makes it seem like you're in a rut and can't get out," Bernal said. "Ellen's help makes you believe there is an opportunity to move up. This is a very valuable program because a lot of people at the university have the ability to contribute more than what they are currently contributing, they just don't have the time or money to get the training. "
Rice University made its commitment to cultural inclusiveness and equal opportunity clear in a September 1997 resolution adopted by the Board of Governors, and Rice is backing this commitment with actions by many in the Rice community that are beginning to pay off.
The Affirmative Action Committee and the President's Committee on Minority Affairs meet monthly and provide Gillis and Rice administration with continuous advice and information on matters related to minority concerns on campus. Membership in both committees is representative of student, staff and faculty, and all members are available to the Rice community and welcome its input.
Keneally said, "There is still a lot of work to be done, but Rice is on the move. Affirmative Action to us means outreach and recruitment of all of the very best people Houston has to offer. I am confident that with the support of all the wonderful, caring people at Rice, we will reach our goal of a workforce truly representative of our community."