1996 Hispanic Engineer of the Year
Equal to Any Challenge
From: Hispanic Engineer and Information Technology, Conference 1996
By Carmela C. Mellado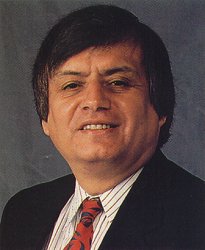 Dr. Richard Tapia
Professor of Computational
Mathematics, Rice University
Richard Tapia figured it out a long time ago: To achieve your best, get in over your head and rise to the top. And the world-class mathematician has applied this formula throughout his life. It has brought this passionate and caring Rice University professor of computational mathematics the kind of professional and personal achievements most people only dream about.
Dr. Michael M. Carroll, dean of Rice's George R. Brown School of Engineering, considers his friend and colleague "first and foremost, a truly dedicated and outstanding teacher." In 1991, Dr. Tapia received Rice's George R. Brown Award for Superior Teaching, an award made by Rice alumni to faculty members who most influenced their lives. A professor and former chairman of Rice's Department of Computational and Applied Mathematics, Tapia is credited with playing a key role in the department's success in graduating more women and minorities with doctorates than any other mathematics program in the nation.
Genuine Concern
His genuine concern for the declining state of mathematics and science programs in grades K-12 led him to create the Mathematics and Computational Sciences Awareness Workshop for K-12 teachers, counselors and principals. The fourday workshop helps teachers motivate and counsel students toward math-based educational and career opportunities.
Described by colleagues as a fearless advocate and passionate activist, Tapia is convinced that creating this kind of awareness among students at these early stages of education is critical to our nation's ability to maintain its world-class status.
"Certainly, I do feel that an important part of our job right now is to convince the youth that there are options," he says. "You don't have to just say, 'I'm going to be a lawyer, or an athlete, or an entertainer."'
Eccentric Myths
As he sees it, a critical part of this process is to dispel the myths that many children and adults believe about scientists being eccentric and unique people. Tapia acknowledges that somewhere along the line, we lost the concept of the scientist as a whole person. A former hot rodder growing up in City Terrace, in East Los Angeles, Calif., this mathematics professor and researcher still satisfies his passion for fast and flashy cars by re-building '57 Chevys (see "Rice's Hot Rod Professor," Hispanic Engineer, Spring 1996).
"Oftentimes people will say to me, 'Oh, I didn't think you were a mathematician, I thought you were in some other area.' They often say that without ever having known any mathematicians!" he says incredulously.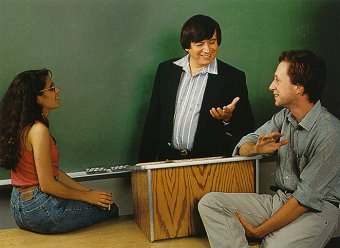 Photo by Thomas C La Vergne
Back to the Classroom
Tapia argues that scientists should get back into the classroom to discuss their work with students face to face. He sees it as an important step toward creating more realistic images of people in scientific and technical careers.
His successful efforts to recruit and retain under-represented minority students in science and engineering have earned him national recognition. The National Research Council named him one of the 20 most influential leaders in minority math education in 1990, the same year he received the HENAAC Award for Education. He was the first recipient of the Computer Research Association's A. Nico Habermann Award in 1994, and the 1995 National Science Foundation Educational Achievement Award for enhancing "Diversity in the Scientific and Technological Workforce."
National Honors
As a researcher, Tapia has earned numerous distinctions and honors. In 1992 he was elected to the prestigious National Academy of Engineering; he was the first Mexican American to be so honored. His research program in computational optimization with special emphasis on interior-point methods for continuous systems has earned him national acclaim. His outstanding record of research in applied mathematics led to his appointment to an endowed chair position as Noah Harding Professor at Rice.
In spite of his own accomplishments in the area, Tapia also is concerned about some elements of graduate education in this country today, especially the low percentage, only about 30 percent, of domestic students participating in science, engineering and mathematics graduate programs.
Deadly Complacency
Tapia wonders if part of the problem could be that domestic students have become too complacent, that perhaps no one has taught our children that working very hard is very satisfying in itself.
"I really think that we haven't shown our youth at early ages how satisfying it can be to work very, very hard, to be committed to a task and FINISH it!" he emphasizes. "I think that we used to do that when more people lived on farms, when more children helped their parents, when people came from large families, especially poor, large families."
According to Tapia, too many of today's graduate students complain of being bored with projects, ask to change projects before completing the tasks at hand, and seem to be more concerned about enjoying their work than completing it. Foreign students, on the other hand, seem to be more disciplined about completing all projects, even the boring ones, with the expectation that perhaps the next one will be more challenging. He suggests that, to avoid boredom, students take more pains to perform the tasks, learning to take satisfaction in a job well done.
Not All Fun Times
"The reality is that a very big piece of what I do is not entertaining," he admits. "It's actually drudgery, and just painful hard work. But that piece is necessary so the other pieces that are fun can come about. Today, as teachers, we do a giant disservice to the youth if we make them think that every minute of the day or of the project is supposed to be entertaining.... The truth is, there is a little of both."
The latest honor in a career filled with accomplishment came when Tapia was appointed to the National Science Board. Nominated by President Clinton and approved by the Congress, Tapia is enthusiastic about this opportunity to share his perspective on education with the 24-member board. The product of public educational systems such as the Los Angeles Unified School District and the University of California, Los Angeles, he also represents an ethnic minority and a top-ranked, prestigious university. "I think I can bring in an understanding that maybe other members of the board don't have. That's why I want to do it. Because I really feel that right now, we're in danger as a nation.... I think our nation's public education is in danger of falling apart. I want to be part of the salvation process."
Part of the Solution
This appointment is especially significant to Tapia because throughout his life, he has dedicated himself to becoming part of the solution, especially in early 1970 when he and a handful of other Latino scientists and professors established SACNAS, the Society for the Advancement of Chicanos and Native Americans in Science. After 25 years of dedication to this mission, SACNAS has become a respected and influential national leader, and Tapia is proud that SACNAS members wholeheartedly supported his nomination to the national board. Even more important for both him and SACNAS is that his nomination drew endorsements from a wide base of supporters, a true indication of the kind of leader he has become.
Distinguishing Laurels
As the 1996 Hispanic Engineer of the Year, Dr. Richard Tapia joins a distinguished group of former top winners. As the first member of academia to receive this honor, he offers some advice to today's students: As he reflects on his own career and life, he admits that every time he got in over his head, he may not have felt equal to the competition, but he always was up for the challenge.
Richard Tapia, Ph.D.
Professor of Computational
Mathematics
Rice University
6100 Main Street, MS-134
Houston, TX 7-7005-1892
Carmela C. Mellado is editor-in-chief of Hispanic Engineer and Information Technology magazine.
http://www.ccgmag.com