GRADUATE AND POSTDOCTORAL EDUCATION
Efforts in graduate and postdoctoral education provide a good example of why the STCs are vital to educating students in science, engineering, and mathematics. Because the centers are composed of scientists from various disciplines who are working on common problems, the centers provide students with an interdisciplinary education. This interdisciplinary approach to education is relatively unique to the STC program and compliments real-world, problem-centered approaches found in industry and government.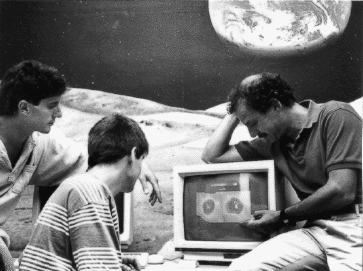 At the center for Partical Astrophysics, graduate students use computer imaging to offer hints about the formation of large-scale structures in the universe.
Research Stipends and Fellowships
By bringing in many new ideas and fresh approaches to research problems, graduate students are the intellectual engines of scientific work. Through stipends and fellowships, these students receive an education while contributing to STC research. At many STCs, graduate students are recognized for their contributions and form the core of the research team for some projects. At the Center for Ultrafast Optical Science, for instance, graduate students are co-authors of more than 90% of the center's publications. This center is targeting its five-year, NSF-funded graduate traineeships at women and underrepresented minorities, with particular recruitment efforts directed to HBCUs. They have also supported nearly 40 graduate students with research assistantships and NSF fellowships.

At each STC, students participate in scientific work that is central to the STC's research goals. Graduate students at the Center for the Analysis and Prediction of Storms work on the center's Advanced Regional Prediction System, which is a crucial tool for weather forecasting. In another instance, a graduate student at the Center for High Pressure Research recently completed a study on crystals that have important laser-based applications.

Because of their tremendous value in research, some STCs devote significant portions of their budgets to supporting graduate students. In its first two years, the Center for Advanced Liquid Crystalline Optical Materials supported 53 graduate students who worked on center research. Similarly, both the Center for Synthesis, Analysis, and Growth of Electronic Materials and the Center for Astrophysical Research in Antarctica support more than 20 graduate students each year through research fellowships.

Industry also values these graduate students for their knowledge of STC technologies. Graduate students are one of the greatest means for transferring STC technology to industry. For instance, the Lytel company hired a student from the Center for Quantized Electronic Structures who helped develop a new laser technology with center support. Students formerly with the Center for Computer Graphics and Scientific Visualization have led development efforts at cutting-edge graphics companies such as Wavefront, Pixar, Lucasfilm, Industrial Light and Magic, and Silicon Graphics. For example, the project group that created Inventor, a Silicon Graphics software library, was led by two center graduates.

At the Center for Magnetic Resonance Technology for Basic Biological Research, research is carried out entirely in conjunction with the training of graduate and postdoctoral students. As a result of their valuable interdisciplinary training, these students go on to positions in established companies and small start-up companies in the pharmaceutical, biomedical, and computer industries. Several students go into academia, after having the opportunity to supervise the research of undergraduates, an experience that broadens their appreciation of their own research and develops pedagogical and supervisory skills.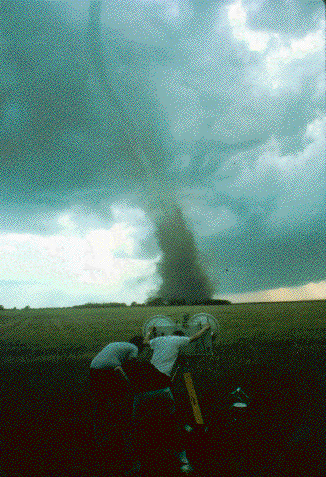 Graduate students at the Center for the Analysis and Prediction of Storms analyze data taken from portable Doppler radars and apply it to their research in weather forecasting.
---
Curricula and Degree Programs
Advanced research requires scientists to be fluent in several disciplines. To address this need, STCs have helped to initiate interdisciplinary graduate degree programs at their participating institutions.
The Center for Molecular Biotechnology served as a model for the creation of a new department and an interdisciplinary graduate program the University of Washington School of Medicine. The center is committed to bringing the powerful tools of chemistry, computer sciences, engineering, mathematics, and physics to bear on the fundamental problems of contemporary biology-the analysis of complex systems and networks. Each graduate student has a mentor from the center and from a related department to increase communication and technology transfer between fields.
The Center for Microbial Ecology has a joint program with Michigan State University that offers interdisciplinary study for Ph.D. students. The training from both programs prepares students to work as part of a team of scientists engaged in the solution of society's complex environmental problems.
For students interested in computational science and engineering, faculty at the Center for Research on Parallel Computation have initiated an M.S. and Ph.D. degree program at Rice University and a graduate concentration at Syracuse University. Both programs allow graduate students to learn the use of advanced computational and numerical tools for application to a specific area of science or engineering.

A 2,304-node triangular mesh created by a graduate student in computational physics at the Center For Research on Parallel Computation's Syracuse University site. Meshes such as this one are used to illustrate complex numerical concepts and physical interactions.

The Center for Advanced Cement-Based Materials (ACBM) supports M.S. and Ph.D. students at Northwestern University, the University of Illinois, Purdue University and the University of Michigan. Students work on an ACBM research project and receive exposure to civil engineering, materials science and engineering, physics, and chemistry. In 1993, more than 61 graduate students were affiliated with this center.
As part of a five-year NSF grant, the Center for Light Microscope Imaging and Biotechnology has established an interdisciplinary program at Carnegie Mellon University that provides training for graduate students at the predoc toral level in the areas of computaional, cellular, and developmental biology, with particular focus on biophysics, cell biology, developmental biology, and the application of advanced bioengineering and computer science concepts and methods. The training leads to Ph.D. degrees and promotes the formation of a new type of scientist who is equally knowledgeable in key areas of both biology and computer science and comfortable in using tools from multiple disciplines.

Center For Light Microscope Imaging and Biotechnology graduate students develop curriculum materials for freshman programming classes such as this volume rendering of a sea urchin embryo.
The Center for High Performance Polymeric Adhesives and Composites has helped to create M.S. and Ph.D. programs in material engineering science at Virginia Polytechnic Institute and State University. The programs are interdisciplinary and feature courses in adhesives, interfaces, polymers, composites, and mechanics.
Starting in the fall of 1994, the Chemical Physics Interdisciplinary Program at Kent State University will offer four new areas of study, focused on liquid crystals, leading to the Ph.D. and master's degrees in chemical physics. Graduate students in the program will carry out their dissertation research on liquid crystal based projects, under the supervision of principal investigators from the Center for Advanced Liquid Crystalline Optical Materials.
---
Other Graduate Efforts
At the Center for Particle Astrophysics, the scope of graduate school education is broadened beyond scientific training. Through the "In Balance" program, which is dedicated to building a diverse and nurturing scientific community, graduate students receive training in facilitation, effective communication, and conflict resolution. The acquisition of these skills not only enhances the students' interactions within their research groups, but also helps prepare them for eventual leadership roles in both academia and industry.

Additionally, one-day "Computer Modeling Workshops" for graduate students and faculty are held at all participating institutions in the Center for Advanced Cement-Based Materials (ACBM). ACBM and NIST have packaged the computer modeling workshop exercises into an educational module to be used as an instructional tool in the classroom. Versions for both IBM and Macintosh computers are available free of charge via Internet from Northwestern University.
---
Postdoctoral Education
Along with graduate students, postdoctoral fellows are an important part of STC research. A postdoctoral fellowship at an STC can help a top young researcher to establish an independent and innovative research program. With these fellowships, postdoctoral researchers can broaden their knowledge to more effectively collaborate with those in industry, the educational community, or other areas. The Center for Discrete Mathematics and Theoretical Computer Science (DIMACS) has initiated two new models for such postdoctoral programs. In cooperation with the Center for Molecular Biotechnology and the Genome Center, and in connection with their "Special Year on Mathematical Support for Molecular Biology," DIMACS has proposed a two-year model program on mathematics, computing, and biology. Researchers in mathematics and computer science will have a hands-on, high-level introduction to experimental biology and will work with biologists in solving problems such as deducing evolutionary trees from genetic data. In cooperation with the Rutgers Center for Mathematics, Science and Computer Education, DIMACS has proposed a unique program of "Research and Education Fellowships," with the aim of developing college and university faculty who will remain active and successful in combining scientific research, teaching, and improving mathematics and science education at all levels. Participants will spend their time both working on their scientific research and participating in ongoing education projects, such as a study of mathematics learning in a fourth-grade classroom, or development of a new course on the foundations of computer science for college freshmen.

The Center for Research in Cognitive Science supports approximately 15 postdoctoral positions for researchers who have just recently received their Ph.D. and would like to take advantage of the center's interdisciplinary approach. The goal of the postdoctoral program is to further the interdisciplinary research of the center and serve as a "bridge" across the different disciplines. The applicants are selected based on their previous research, their field of interest, and nomination by at least two center faculty from different disciplines. While at the center, they work with center faculty and other University of Pennsylvania professors, participate in seminars and discussion groups, and present their research as part of the STC's colloquium series.

At the Center for Clouds, Chemistry, and Climate, the research programs have been specifically planned to be executed by postdoctorates who are supervised by senior scientists from at least two affiliated institutions. With this arrangement, postdoctorates will participate in interdisciplinary projects, receiving valuable training and firsthand expertise in the complexity of global climate change.

At The Geometry Center, fellowships are awarded each year to applicants who demonstrate a high level of research accomplishment in mathematics or computer science. Center postdoctorates maintain a vigorous program of independent research and participate fully in a combination of activities including technology development, education, and outreach. They may also participate in the activities of the University's of Minnesota's Computer Science and Mathematics departments and in other institutes and centers at the university.
---
Table of Contents