CRPC Awards and Honors
---
Cynthia Lanius wins the Rice University Women's Resource Center IMPACT Award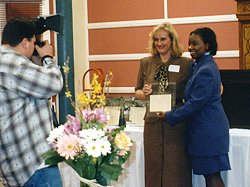 Cynthia Lanius, CRPC Associate Director of Education, Outreach, and Training, and former CRPC Manager of K-12 Programs, has won the Rice University Women's Resource Center IMPACT Award in the Rice Staff category. The IMPACT Awards are given in recognition of service to the campus and community, involvement and participation in student life activities at the university and/or beyond, raising awareness of women's issues affecting the community, and serving as a role model in the empowerment of women. Cynthia (left) received her award at a ceremony at the Rice Women's Resource Center (WRC) on February 13, 1998 from Mona Hicks (right), Assistant Director of the WRC.
Richard Tapia wins AAAS Lifetime Mentor Award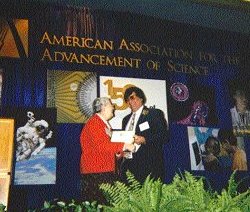 Richard A. Tapia (right), CRPC Director of Education and Human Resources, receives the 1997 American Association for the Advancement of Science (AAAS) Lifetime Mentor Award from Mildred Dresselhaus, President of the American Association for the Advancement of Science on Monday, February 16, 1998. See also http://www.crpc.rice.edu/CRPC/
newsletters/fal97/news_award.html.
---