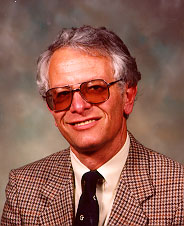 EAC FOCUS -- George Nemhauser
Institute Professor, School of Industrial and Systems Engineering, and Co-Director, Logistics Engineering Center, Georgia Institute of Technology
---
New York City-born George Nemhauser knew at a young age that he was destined for a career in science. He attended the Bronx High School of Science, then went on to earn his B.S. in Chemical Engineering at the City College of New York (1958), his M.S. in Chemical Engineering at Northwestern University (1959), and his Ph.D. in Operations Research at Northwestern (1961). He began his career as an assistant professor of Operations Research and Industrial Engineering at Johns Hopkins University in 1961, and in 1970 was appointed professor of Operations Research and Industrial Engineering at Cornell University. Nemhauser served as the school director from 1977 to 1983, and became a Leon Welch Professor in 1984. He joined the Georgia Institute of Technology School of Industrial and Systems Engineering in 1985 as the A. Russell Chandler Professor and was appointed Institute Professor in 1991.

Nemhauser's principal research interests are in the area of discrete optimization. His current projects focus on solving large-scale, mixed- integer programming problems. He is actively working on several applications, including solving crew and fleet scheduling problems for major airlines like Delta, American, Northwest, and United.

"We build large-scale mixed-integer programming models for scheduling the planes and crews," Nemhauser says. "Some of the crew models have millions of variables. We develop specialized techniques that are used with software systems like CPLEX, created by Bob Bixby [see "Parallel Profile, Robert Bixby" ] and MINTO [Mixed INTeger Optimizer] to solve these problems."

Nemhauser is a co-developer of the MINTO software system, which solves mixed-integer linear problems by a branch-and-bound algorithm with linear programming relaxations. "MINTO provides automatic constraint classification, preprocessing, primal heuristics, and constraint generation," he explains. "The user can enrich the basic algorithm by providing a variety of specialized application routines that can customize MINTO to achieve maximum efficiency for a problem class."

In addition to conducting research and teaching at Georgia Tech, Nemhauser is co-director of the Logistics Engineering Center there, and has held visiting faculty positions at the University of Leeds, U.K., and the University of Louvain, Belgium. At Louvain, he worked at the Center for Operations Research and Econometrics and was research director from 1975 to 1977. He has served the Operations Research Society of America (ORSA) as council member, president, editor of Operations Research and currently, editor of Operations Research Letters, and is the past chairman of the Mathematical Programming Society. He has served on various government agencies, including the National Science Foundation, the National Institute of Standards and Technology (NIST), and the National Research Council (NRC). He is currently a member of the NRC Board of Mathematical Sciences.

Nemhauser's honors and awards include the Kimball Medal (1987), the Lanchester Prize (in 1977 and 1989), membership in the National Academy of Engineering (1986), Morse lecturer of ORSA (1991-1993), and awards for outstanding teaching at Johns Hopkins University. He is the author of three books and more than 80 papers, and has supervised nearly 30 doctoral dissertations.

Nemhauser believes that the CRPC plays a major role in the field of optimization research. "Optimization is a very fertile area for the application of parallel computing," he says. "Led by my close friends and former co-workers at Cornell, Bob Bixby and John Dennis, the CRPC has done great work in this area. It has been my pleasure as a member of the External Advisory Committee to observe the work closely and be a proponent of it."
---
Table of Contents