GirlTECH, a K-12 teacher training program initiated by the CRPC in 1995, teaches mathematics, science, and computer literacy teachers how to effectively incorporate computer technology into the classroom and how to develop computer-based lessons that will appeal to girls. The Rice University-based program has trained hundreds of teachers, who have in turn impacted thousands of students and other teachers throughout Texas. The influence of this highly acclaimed program has now reached Maui, Hawaii, where the technology coordinator at a school for girls has established the first science and technology program of its kind in that state.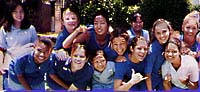 Novine Schlapter of the La Pietra-Hawaii School for Girls in Maui attended an education session about GirlTECH during Supercomputing '98 in Orlando, Florida. Led by GirlTECH Program Manager Cynthia Lanius and teacher Molly Silha of Houston's Aldine Independent School District, the discussion focused on how teacher participants are trained to use online resources as research, teaching, and collaboration tools, and made attendees aware of the concerns and issues facing girls and technology. As she learned more about GirlTECH's activities and successes, Schlapter became inspired to establish a science and technology program at her school in Hawaii.
Called the Girls' Education in Network Engineering and Systems (GENES), Schlapter's program is a collaboration of the La Pietra-Hawaii School for Girls and the Maui High Performance Computing Center, with additional funding, equipment, and technical support from local companies. There will be a summer program for teenage girls and a private, year-round course at La Pietra. Students will learn about designing, implementing, and managing computer networks, and will be encouraged to pursue college degrees and careers in computational science and engineering.
The GirlTECH program is part of the Education, Outreach and Training Partnership for Advanced Computational Infrastructure (EOT-PACI). The RGK Foundation provides financial support. For more information, see http://teachertech.rice.edu/.