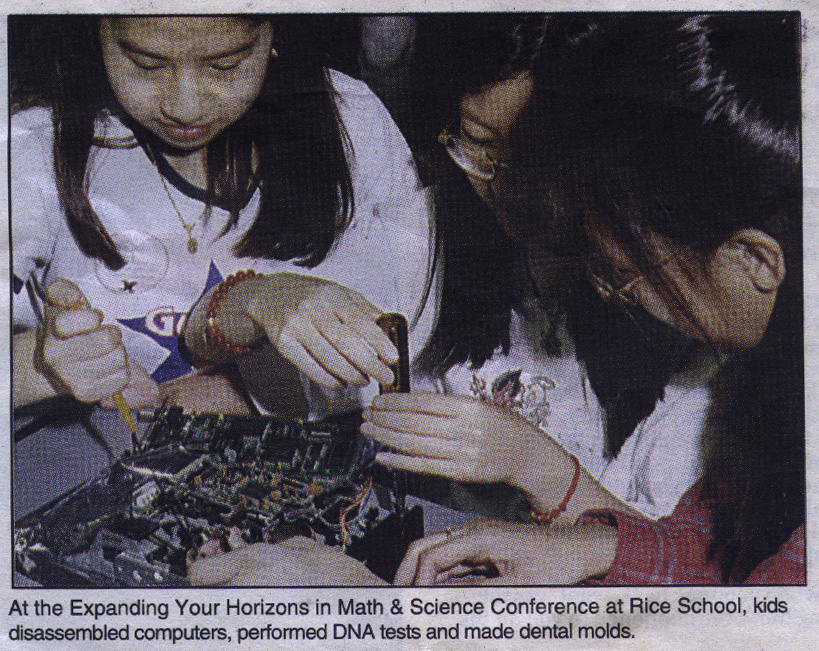 Girls expand horizons in math and science
---
By Annie Chen
Special to the [Houston] Chronicle
Thursday, April 25, 1996
Debbie Campbell remembers the isolation she felt as a math-loving high school student who happened to be female.
"Sometimes I was the only girl in my (math) class," she recalled before an audience of girls attending the recent Expanding Your Horizons in Math and Science Conference. "I remember tellmg my high school teacher that I wanted to be an engineer. ... The teacher laughed at me and said, `You mean you want to marry an engineer.'"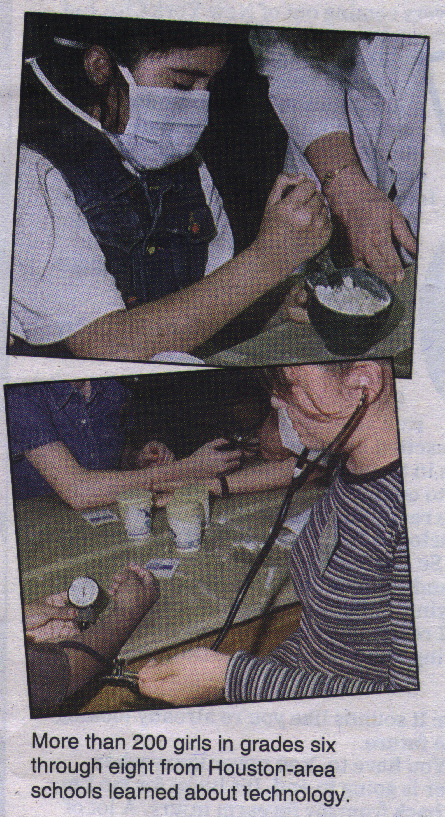 The conference, held April 13 at the Rice School, aimed to help girls in grades six through eight combat the problems Campbell faced and show them career opportunities for women in math and science.
The conference turnout indicates that interest in these opportunities runs high. More than 200 girls from Houston-area schools spent the day taking apart computers, performing DNA tests, making dental molds, touching live oysters and doing other fun activities aimed at stimulating and supporting their interest in math and science.
They listened to speakers like Campbell whose topics ranged from marine biology to computer science to forensic chemistry. Sponsored in part by the Center for Research on Parallel Computation (CRPC) and the West Harris County Branch of the American Association of University Women (AAUW), the one-day conference offered a host of workshops.
Lyla El-Messidi, 12, was one of 22 girls in a technology workshop who had fun ripping apart computer terminals to explore how they work.
Soon tables in the classroom were littered with disassembled modems, keyboards and green boards of all kinds.
At another technology-oriented workshop, girls surfed the Internet.
Maya Smith, a 14-year-old student at St. John's, plans to be an architect. Math scores in the United States "as a whole are going down," she said.
"It's like an artform with math as a base," she said.
Many of the girls attending the conference were undaunted by the fact that math and science fields have been dominated by males. If the boldness and spirit of attendees is any indication, that imbalance is destined for the trash bin of history.
[CRPC EYH Home Page - CRPC Women's Programs Home Page - CRPC Home Page]
---
Updated by dcamp@cs.rice.edu.
http://www.crpc.rice.edu/CRPC/Women/EYH/YO/